For those of you just starting off in the sometimes fraught-with-confusion world of car audio, this article is going to come at a great time. Indeed, like with any project worth its salt, you're always best pre-planning everything and taking it step-by-step so nothing is rushed, glossed over or otherwise missed.
In the following paragraphs, we're going to thoroughly look into elements involving benefits of a good car sound system, key components, additional components, system pricing and even an expert recommendation for a system package in the $200 to $400 price range – proving that you don't have to spend your retirement fund or kids' college tuition savings to afford a solid system.
Have you been pondering what's possible when putting together a mobile audio sound system? Did you always believe you would never be able to afford premium sound beyond what your factory system delivers? Were there always questions you had that were never fully answered by local shops just hungry to get your hard-earned money?
All of those concerns end here – because at 99carstereo.com, we believe the hobby of car audio should be fun, entertaining and, above all, straight-to-the-point.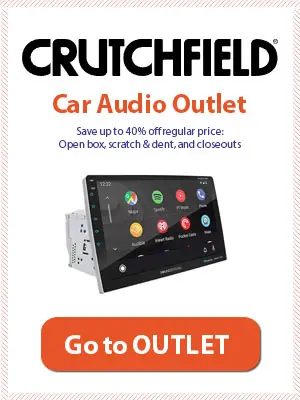 The Key Components
While the subject of mobile audio can seem somewhat complicated at first to novices, there are basically three main components that every system has to include: A "head unit" (radio/receiver) that provides an audio signal, an amplifier to boost that signal and speakers that actually produce the sound we hear.
We can tell you from experience that these components are highly-dependent on one another, and they end up determining the overall quality of a system based on how they interact.
Let's take a quick look at each:
The Head Unit – The term "head unit" is really used amongst more "in-the-know" installer types and industry insiders, with most people referring to this component as the radio, stereo or receiver. At its simplest, this is the component that contains the AM/FM radio, source type (CD, or, in years past, cassette) and signal to be fed to either speakers or amplifiers; some head units of today incorporate video functionality and are able to play back DVD or Blu-ray Discs.
The Amplifier – As the second major component that every quality mobile sound system requires, the amp's job is to increase the power of the signal coming from the aforementioned head unit. The simplest of systems – i.e. factory sound setups – contain only the head unit and a series of speakers (in most cases), with the speakers in such systems powered by the onboard (or built-in) amps of the head unit itself. However, these are relatively low-powered setups, and higher-quality systems definitely strut their stuff with the addition of an external power amp or amps.
The Speakers – These represent the final piece of the key components puzzle; most car audio systems boast at least four loudspeakers, but there are a myriad of different configurations to take into consideration, such as coaxial/component arrangements (a subject we covered in previous articles). Without speakers, you'd get no sound out of your system, so this is an area many experts recommend taking seriously.
Additional Components
Once a basic system layout is realized, there are a number of accessories or additional components that can be introduced. None of these are as mandatory as the key components we just outlined, but they add an element of "punch" that good systems can definitely take advantage of.
These include but are not limited to:
Sound processors and equalizers
Satellite, HD radio
Sound deadening
Car Audio System Pricing
If you find yourself asking, "What can I get in the $XXX price range?" with regard to car audio systems, you're definitely not alone. Car stereo systems, like every other product we consider purchasing in our lives, come in a variety of budgets, and it can sometimes be overwhelming to break these down.
The price you ultimately pay for a quality system will vary depending on your aforementioned budget, in addition to the components you choose and where you actually buy your components.
Recommended System in $200 to $400 Price Range
In keeping with the system pricing theme, we're going to now recommend a system of choice in the $200 to $400 range which includes a head unit, speakers and amplifier and which in this case all comes from well known brand Alpine.
The Alpine CDE-172BT head unit is an excellent option for the brains of an affordable quality system (around $110) and comes complete with built-in Bluetooth and CD playing capabilities.
The Alpine S-S65C 6.5″ speakers are a mega-affordable way to get into seriously great-sounding components at around $90.
To conclude this car audio sytem we suggest Alpine MRV-F300 four-channel amplifier, offers 200 watts of RMS power, speaker level inputs and more for around $150.
The Benefits of a Good Car Sound System
The way we see it, there are four benefits of a quality car sound system that push it beyond what you may be experiencing with a factory setup:
First and foremost, you will experience better sound from a system when it's of a premium variety; to be sure, even if all you do is upgrade your car's system with high-quality aftermarket speakers, the reward will come in the form of tighter bass and more overall clarity in your music.
You'll also experience better control of your system and speakers with a more premium setup; a high-quality mobile audio system, when built to your specifications, provides optimal control over the way your music sounds. Put simply, you can fine-tune your tunes.
A commute won't seem nearly as painful with a premium car stereo experience; when you get lost in your music in bumper-to-bumper traffic, you may not even be bothered by the honking cars around you.
You can enjoy better communication on your iPhone or Android from your car with an upgraded system that supports hand-free operation.
Unfortunately, car audio's reputation has been smothered in a heaping of sour applesauce due to the hobby's tendency to immediately conjure up visions of those license plate-and-window-rattling "ghetto blasters" that wake the entire neighborhood when driving by.
Most of the time, these vehicles are driven by young types who are just starting out in mobile audio and who actually get a kick out of hearing their car's panels rattling loose, or that ridiculously annoying (and aforementioned) sound of their license plate hitting the vehicle's metal from the bass waves rocking the trunk.
To be sure, this isn't what the true approach to quality car audio is really about. Sure, those kinds of "shake-the-block" all-subwoofer systems can be fun in certain environments and, when executed correctly – such as during professional "soundoff competitions" – they can be entertaining to a point.
However, to truly understand what makes a top-notch system "all that," as they say, it all begins with components of a good quality and, above all, a good synergy.
To put it succinctly, you do not want to purchase something which looks great but which exudes extremely poor sound quality.
If you are constantly in and out of your car for whatever reasons – back-and-forth to and from work, to the grocery store, out to dinner, dropping off and picking up the kids – you should want the experience to be as pleasurable as possible. In fact, sometimes it can feel like we actually spend more time in our vehicles than we do at home, and for that reason, car audio is taken seriously by a lot of people.
At the beating heart of building a great mobile sound system is the art of synergy – that is, finding components that work well together and yield sound that you find non-fatiguing, energizing and, ultimately, complimentary to the kind of tunes you play.