Realizing the perfect audio landscape you long for can be one of the hardest feats to achieve, more so as a first timer.
In order to do so, you'll require a good high-end stereo to power the quality car door speakers and more often than not, a subwoofer to complement the whole system with powerful bass lines.
If you've been closely following our series, you probably have a rough idea of the best car door speakers in the varying sizes and now, it is time to have a look at arguably the most essential accessory for music enthusiasts – car subwoofers.
Table of contents
The Best Car Subwoofer Series on the Market
Our Pick: Pioneer Champion Series
Established in 1938, Pioneer is arguably one of the most authoritative brands out there. If you have been following our reviews on the varying car speaker sizes, you are probably aware of just how much the brand values quality and with that, the champion series is no exception. If you are truly looking for a solid sub to complement your audio system, your safest bet lies in the Pioneer Champion series.
Winner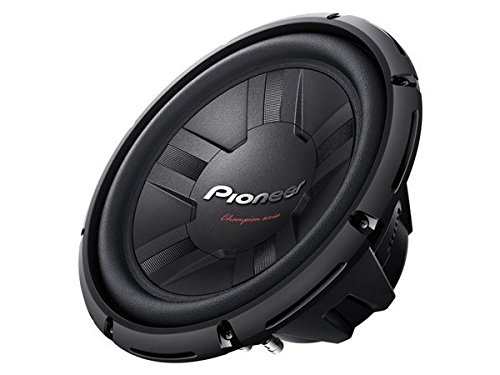 Our Pick
Pioneer Champion Series
It strikes the perfect balance of quality bass and high efficiency.
The series comes in three different sizes mainly the 8" sub, 10" sub and 12" sub – all producing an excellent low-frequency response. The latter, in particular, facilitates fuller and deeper bass with an impressive minimum frequency response of 20Hz, which was in fact, the lowest among all speakers we tested and thus the best. The sub also packs a reliable sensitivity rating of 96 dB – the most efficient on the market, alongside a great RMS power handling of 600 watts and immense peak power of 2000 watts. Basically, this means that you can indeed push the Champion to extreme limits without having to worry about it blowing up.
You would be hard-pressed to find any flaw with the Champion series subs, but what we noticed was that the ideal sealed enclosure box is much bigger than most subwoofer box enclosures. This, therefore, means that you will have to make room in your car if you have to go for these great subs by Pioneer.
In a nutshell, if you seek crisp and accurate bass levels without any distortions whatsoever, you'll want to mount these beasts in a sealed enclosure box and on the flipside; those after thumping bass can place them in vented enclosures.
Runner Up: Kicker CompRT Series
The Kicker is another valuable brand that regularly manages to pop-up on our lists in almost all car speaker sizes and their subs are equally great. The CompRT series basically entails a shallow-mount design hence a viable option for those seeking booming bass in their compact car.
Runner Up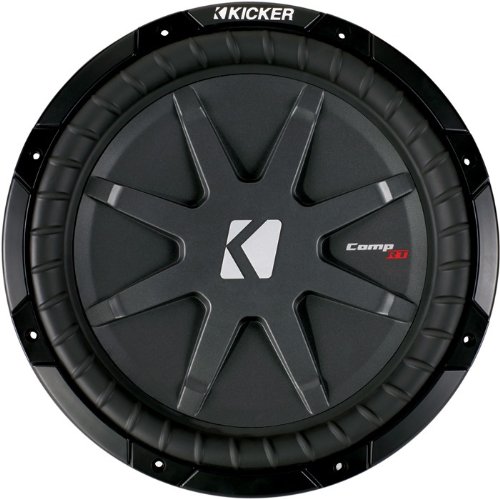 ALSO GREAT
Kicker CompRT Series
Portability is indeed a paramount consideration when choosing a subwoofer for car, and if this ranks high on your list of priorities, your safest bet then lies in these quality subs from Kicker.
Before anything else, it is worth noting that the CompRT subs sport an impressive continuous power handling ability of 800 watts and peak power of 1600 watts. That said, the Kicker subs also pack a low-frequency response of 25Hz (which is excellent considering the mounting depth), and high-frequency reach of 500 Hz meaning they should go a long way in boosting your mid frequencies ranges significantly.
The downside of the Kicker CompRT subs lies in the somewhat below average sensitivity rating of 87dB. To break it down for you, this sub currently packs a sensitivity rating of 96 dB hence placing the Kicker products among the least efficient.
The low sensitivity ratings don't in any way imply that these speakers won't shake the mirrors of the car next to you. The lack of depth doesn't sacrifice too much bass or well-rounded performance and you can expect them to boom in optimal fashion thanks to the high power-handling abilities.
On the Budget: MTX Terminator Series
On The Budget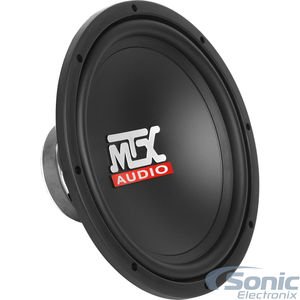 CHEAP OPTION
MTX Terminator Series
If you are looking for quality enclosed subs on a budget, these are great option worth checking out.
Those looking for hard hitting bass without burning holes in their pocket should probably consider checking out the MTX Terminator series subs. Besides being reasonably priced, the subs pack high-end MDF enclosures covered in black aviation grade carpet for longevity purposes. Also, they feature a continuous power handling of up to 400 watts and RMS of 800 watts which is certainly more than enough to keep you going on a budget. That said, their low-frequency response of 37Hz and high-frequency response of 150Hz is certainly not anything to write home about compared to their counterparts above.
In conclusion, these speakers are undoubtedly cool enough to make our cut with MTX logos embroidered on the dust caps and speakers, giving them a distinct look.
The Upgrade Pick: JL Audio W6V3 Series
The Upgrade Pick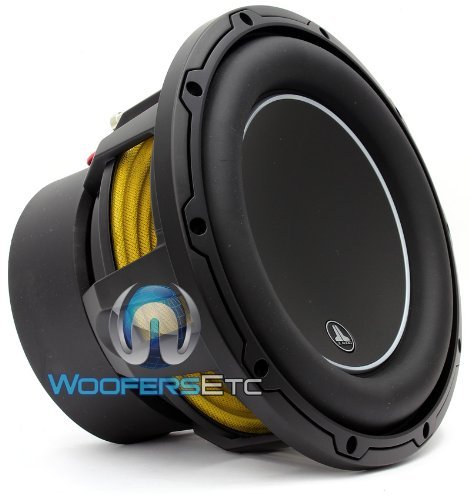 HIGH CLASS
JL Audio W6V3 Series
Generally, these speakers offer nothing short of precise, high-quality bass without any resonances whatsoever.
Over the years, JL Audio has created a solid portfolio of having some of the best audiophiles and for good reason. The W6V3 car subwoofers are undoubtedly among the best high-end products with unparalleled precision and booming bass to satisfy the needs of finicky bass heads. These subs not only pack a reliable RMS of 600 watts, but also a tough mineral-filled polypropylene cone that enhances strength without slowing its frequency response in any way.
The only con with the W6V3 would be its hefty price tag, but if the booming bass is what really matters to you, this shouldn't be a problem. In conclusion, use a sealed airtight enclosure to get the most out of these beasts by JL Audio. It features a simplistic terminal jumper wiring system that allows the user to set the sub's impedance, so as to draw optimal power from the amplifier and achieve unmatched powerful bass lines.
Also Great: Alpine Type-S Series
Also Great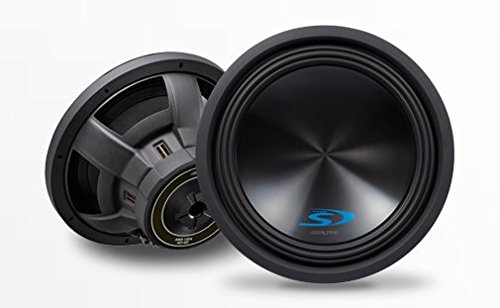 OTHER ALTERNATIVES
Alpine Type-S Series
Despite their somewhat low frequency response, the Alpine Type-S subwoofer offer great value for money and worth checking out.
You probably were expecting to come across an Alpine product and yes, we just had to include one. The manufacturer has constantly distinguished itself from the competition by creating quality high-end speakers in all sizes including subs.
Should we begin by stating the fact that these subs come packing a reliable RMS of 500 watts, or the fact that they have a peak power of 1500 watts? That aside, the Type-S car subwoofers are able to produce punchy bass and accurate lows regardless of any music genre you may be interested in. They also don't require large enclosures to get the most out of them despite having one of the largest mounting depths.
The only con with the Type-S subs has to be the low sensitivity rating of 86.5dB which ranks among the least efficient on our list. In conclusion, it is worthy of a place in your car audio arsenal thanks to their immense power and high-end precision.
Also Great: Rockford Fosgate Punch P2
Also Great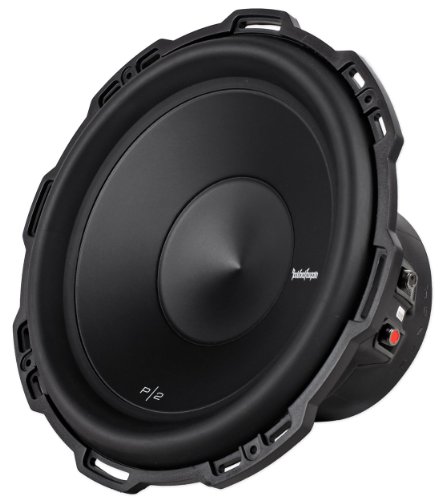 OTHER ALTERNATIVES
Rockford Fosgate Punch P2 Series
Besides having a solid RMS of 400 watts, the subs come in a variety of sizes to satisfy the varying needs of car owners
Rockford need not do much to grab the attention of audiophiles being that they were the first to venture in-car systems. That said, if you are seeking a punchy subwoofer to keep your head bumping all the way, every day, the Punch P2 is a safe bet. They pack a low-frequency response of 27Hz which may not seem sufficient compared to the products above, but will certainly rattle the windows of the car next to yours. The peak power of 800 watts is also worth a mention here considering the fact that they are one of the most reasonably priced products you can get your hands on.
The speaker, unfortunately, has a low sensitivity rating of 86 dB which is among the lowest we tested. All said the Punch P2 subs are ideal for those seeking thunderous bass and punchy low frequencies to make a statement. This can be attributed to the impressive continuous power handling abilities and sufficient peak power that allow you to push them to the limit without worrying about damaging them. Read a complete review of Rockford Fosgate Punch P2 series.
What to Look for When Buying Car Subwoofers
Car subwoofers are basically designed to reproduce bass and handle all low range frequencies that your smaller rear deck speakers struggle with. Indeed, a quality car subwoofer will make you feel your favorite music, just as much as you hear it and this is the most paramount aspect of a quality audio system. There are a number of quality car subwoofer speakers on the market where you'll likely bump into the usual culprits such as Pioneer and Kicker. However, you will have to place a plethora of considerations while in your quest. For instance, while a Pioneer subwoofer may be effective at producing heart throbbing lows, it lacks efficiency with poor power handling capacity. Here are some tips to help you out when shopping for best car subwoofer.
Budget
Similar to all other shopping sprees, you have a budget that you want to stick to right? That said the main idea, therefore, is to find a quality car subwoofer that strikes the perfect balance of cost efficiency and performance. Contrary to common perception, the highest priced car subwoofer isn't necessarily the best out there and on the flipside, the cheapest is not always that bad. In a nutshell, you can get a subwoofer that complements your needs without having to burn holes in your pocket.
Power Handling Performance
If you seek a speaker that really booms without any resonances to deter the audio quality of your system, it would then be in your best interest to pay attention to the power handling performance of the prospective brand. In layman's terms, this basically translates to a woofer's efficiency. Scrutinize closely the continuous power handling ability which simply reveals how much power the sub can handle for a continuous period without any distortions or damage. In conclusion, the best sub will handle power efficiently regardless of how long it booms.
Sensitivity
While at it, it would be wise to check the sensitivity ratings, which technically indicate the decibel output of a woofer, at one meter using a watt of power. For instance, a subwoofer packing a sensitivity rating of 90dB requires 100 watts to produce the same output of 96dB sub, using a mere 25 watts. Generally, always keep in mind that a speaker's sensitivity will work hand-in-hand with power output to achieve a big, high-quality sound.
Size
This is one of the most controversial debates among car speaker enthusiasts – what size produces the loudest sound? As much as this question is valid, it isn't easy to tell because sometimes, the largest woofers will not facilitate the huge sound you yearn. However, if your main goal is to find a sub that plays loud and the space in your car isn't issue, go for the biggest subwoofers if you can. This, however, doesn't mean that you should underestimate the smaller brands. In essence, a highly-powered car subwoofer in an ideal enclosure will always pack plenty of punch regardless of how small it may seem.
Enclosure Specifications
For those who don't have a clue on the importance of a subwoofer box enclosure, it is important to know that the type of enclosure you mount your sub in, will to some extents determine the overall sound produced. That said there is a plethora of varying box enclosures and the most ideal for your car should be based on your exact needs.
Bandpass enclosures – these types of enclosures have been specifically designed for the maximum slam. Basically, its design entails a dual-chambered box consisting of a sealed chamber and a ported one. In such a setting, your sub is mounted in the sealed chamber where the sound waves are then directed towards the port. The sound emerging from the ported sound is extra loud even though within a narrow range. The aggressive sound produced is categorically ideal for those that enjoy reggae, rap, and hard metal rock.
Ported enclosures – such boxes pack a vent designed to enhance low-frequency response. This simply means that you get maximum output compared to sealed enclosures, regardless of the set amp wattage. They indeed produce powerful, heart throbbing bass than most enclosures, hence making them ideal for heavy metal and rock. You will, however, need to have sufficient space in your car as they tend to be large.
Sealed enclosures – the housing consists of an airtight chamber designed to facilitate powerful bass in unmatched precision. The response is not somewhat boomy but has great power handling. Even though it requires more power than a ported enclosure, it is quite compact and ideal for smaller vehicles.
Nominal Impedance
In your quest, you'll likely bump into a sub with 4 ohms impedance which is the most common. However, 2 ohm and 8-ohm subwoofers are finding a place in the versatile subwoofer market more so for dual voice coil speakers. When choosing your ideal sub, it is paramount to match the impedance and power rating to the amplifier in your car, so as to avoid any resonances or distortion. A number of quality high-end amplifiers are designed to power car subwoofers with an impedance of 2 and 4 ohms meaning it shouldn't be hard finding one that complements your system.
Voice Coils
Typical car subwoofers come sporting a single coil design that is slowly becoming outdated going by the latest trends in audiophiles. Dual voice coils are creeping in and gaining more popularity by the day, more so for car owners that seek flexibility when wiring together their preferred sound system. In essence, DVC subwoofers pack dual distinct coils – each with its very own connection ports – mounted on a single cylinder which is then connected to a common subwoofer cone.
Different Types and Sizes of Car Subwoofers
Now that you have a basic idea of the features to look out for when shopping around for your ideal car subwoofer, it is also paramount to note that are different types of subs, categorically designed to meet the numerous, varying needs of audiophiles. Generally, these products will vary in design, size, price, and quality among other aspects. Therefore, before having a look at the top brands creating the entire buzz among car owners, let's delve into the available types of subs so as to make an informed decision eventually, based on your specific needs.
Component Car Subwoofers
In your quest, you will likely come across component subs which are in fact the most popular out there. Basically, it is just the speaker by itself without an enclosure – which is mandatory for it to perform optimally. Component subs come in a wide range of sizes, – from the smallest 8-inch sub to the largest 18-inch subwoofer – impedance, voice coil setups, and power. This, therefore, allows you to choose from an infinite array of choices, so as to pick the most ideal that complements your comprehensive system in the seamless fashion. If you are just making a debut in car audio systems, going for a component subwoofer would be in your best interest.
Enclosed Car Subwoofers
If you have set aside a good amount of money for your car's subwoofer, enclosed subs are definitely the way to go. Unlike component speakers which come without any form of housing, these subs come sporting a pre-mounted enclosure box specifically designed to not only accommodate the speaker but also get the most out of its potential. This, therefore, eliminates the necessary need to buy a separate enclosure (which may not work as well as you would want), or need to design and build one yourself. The downside is that the choice of enclosed subwoofers is limited compared to their component counterparts.
Powered Car Subwoofers
Are you overwhelmed by the infinite number of subs and amplifiers available on the market and simply want a comprehensive package once and for all? It would then be in your best interest to go for a powered sub. Basically, a powered sub packs a woofer and inbuilt amplifier in a one simple box enclosure meaning you end with only a single piece of audio accessory to install. The main downside with powered subs is that even though they are effective at producing quality bass lines, they tend to have a smaller amplifier and drivers that may not provide the heart-throbbing bass you may be looking for as a bass head.
Shallow Mount Car Subwoofer
These products are basically designed to be portably mounted in a shallow space within your car hence not taking up much space; without compromising on the bass performance expected from any woofer worth its salt. There are a plethora of benefits pegged to installing a shallow mount subwoofer such as its lightweight nature and enhanced portability. Shallow mount subs also allow you to easily remove and install them when a need arises. However, with the enhanced portability comes a slightly lower performance compared to larger component subs. Also, the fact that they can be easily dislodged makes them highly prone to damage. See our review of best shallow mount subwoofers.
Competition Car Subwoofers
If you are a real bass head that often daydreams about having the loudest car system in the world, it is worth mentioning that competition subs have been specifically designed for you. Competition subwoofers basically defy all rules and standards by packing immense power, extraordinary bass and a hefty weight that may as well take up all the space in your trunk. As the name implies, they are competition grade speakers designed for use in competitions. In fact, they come complete with re-cone kits to allow you to fix them just in case they get damaged – which is highly likely in competitions. In short, this is not your ordinary sub even though it can be used for everyday listening. Our review of best competition subwoofers.
Under Seat Car Subwoofer
Under seat car woofers are becoming common by the day, and this can be attributed to their compact and portable features. As the name implies, these subs come packing a sizable pre-installed enclosure that fits comfortably beneath your car seats. They are very easy to install, besides the fact that they can be removed in a hurry when a need arises. However, they are not ideal for those after ground shaking bass as their power and size simply can't match up to larger component subs. See our review of best under seat subwoofers.
8-Inch Car Subwoofers
Being the smallest available size of car subwoofers, 8" subs guarantee faster frequency response and punch. The main advantage with this is that they can keep up with your favorite fast-paced genres of music such as EDM, heavy rock and double bass jams. The small-sized subs are thus a viable option for those that enjoy soft but boomy bass. In a nutshell, these woofers have simply been designed to complement your comprehensive system and not necessarily to produce overwhelming bass. A full review of best 8-inch subs.
10-Inch Car Subwoofers
These subs are ranked among the most common partly thanks to their all-rounded performance and partly to their portability. A ten-inch sub will keep up with your favorite fast-paced music alright, while still packing a reasonable amount of bass ideal for most audiophiles. However, their main forte where they thrive is in medium-paced genres such as club music and rap (which by the way, also require decent bass if you are to enjoy). However, those looking for ground-shaking bass in their car can opt to install dual 10" subs, to realize powerful, unparalleled lows. Full review of 10-inch car subwoofers.
12-Inch Car Subwoofers
The 12" sub is arguably the most popular and readily available woofer you can get your hands on. Any specific reason why this is the case, you ask? Well, for starters they facilitate a somewhat universal performance by playing any genre of music you wish in the optimal fashion. Basically, these sizable subs cover a wide range of frequencies while still producing heavy bass that will turn heads at every street you drive by. Sure, it won't keep up with heavy rock music as well as the 10" subs can, but you can be guaranteed of a great bass-filled audio experience all day, every day.
15-Inch Car Subwoofers
If your main goal is to have heart throbbing bass more than anything else, the 15" subs will certainly come in handy. As we have seen, choosing the right speaker size boils down to a number of crucial factors such as the space available in your car, the level of bass you seek to achieve and more importantly, your favorite genre of music. In a nutshell, only go for a 15" sub if doubling up on the 10's isn't an option. Full review of 15-inch car subwoofers.
18-Inch Car Subwoofers
If the subs above just don't have enough bass to turn heads everywhere you go, you either need to get your ears checked or car checked for noise distortion. An 18" subwoofer produces more than enough, ear bleeding bass to satisfy even the most extreme bass head there is. Generally, an 8" car subwoofer is great for complementing your comprehensive audio system and on the other hand, an 18" sub will just wake up your whole neighborhood every time you drive by. Your safest bet, therefore, lies in 10-inch or 12-inch sub.
Wrapping it up
Basically, finding the perfect subs to boost your car audio arsenal isn't a mean feat as you have learned. It requires sufficient knowledge on the varying features and models, alongside making an informed decision based on research. In a nutshell, you are better placed finding your ideal sub by following the guidelines listed throughout this context and other information in our on-going series of the best car audio products on the market.
Our Pick: Pioneer Champion Series