Contrary to common perception, you don't need large speakers in order to realize a quality audio system. If you are looking for crisp acoustics complemented by decent lows and mids, fitting your car with 6.5 inch speakers can indeed serve you right. While the 6.5 car speakers weren't specifically designed to thrive in low and high-frequency ranges, their mid frequency range is certainly more than you could ask for.
That said, let's dive right in and have a look at some of the best 6.5 car speakers on the market. Note that we embarked on vigorous and thorough testing procedures just to come up with this list. Our team of experts began by testing a wide array of 6.5-inch coaxial car speakers, before embarking on the component versions of the speakers.
Table of contents
The Best 6.5 inch Coaxial Car Speakers Review
Our pick: Focal IC 165 6.5 inch Coaxial Car Speakers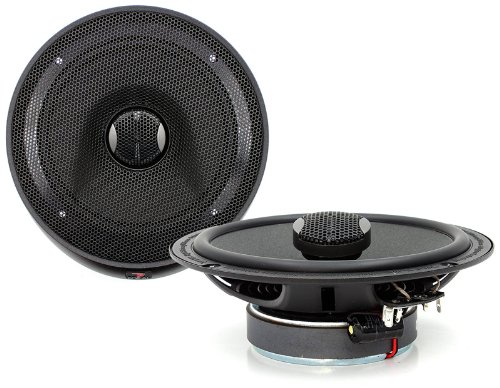 Focal has for a while now been dominating the car speakers realms and it is categorically because of meticulously designed products such as the IC 165. By just looking at the speaker, you can instantly tell that a lot of effort was put in the engineering and design. The materials used in the creation are nothing short of the highest grade available hence making these speakers the ultimate coaxial speakers you can get your hands on. Let's have an in-depth look at why this is the case.
Focal IC 165 has a power handling of 140 watts peak per speaker, 93dB sensitivity and an impeccable frequency range that beats most on this list. The woofer is handcrafted using rare-to-find Aramid poly glass fibers, with a rigid butyl rubber surround intended to produce best possible sound defined by power and precision. In addition, the woofer is mounted in zinc-aluminum, non-magnetic alloy baskets to eliminate all interference that may compromise the music quality. For the high and mid range frequencies, you can rely upon the processed aluminum inverted super dome tweeters to work their magic.
The whole unit essentially works as one – an aspect overlooked by most manufacturers. Finding a downside to the Focal IC 165 was bluntly impossible. After testing every range and detail, the only con we could find was its somewhat hefty price tag. But then again, what can you expect from such a high-quality product?
According to the manufacturer Focal, all speakers are taken through a number of thorough tests and procedures to ensure that they meet the required standards.
On the Budget: Kicker 40CS654 6.5 inch Two-Way Coaxial Car Speakers
If you are looking for a cheap upgrade option, fitting your car with Kicker 40CS654 speakers would certainly be in your best interest. These speakers are not in any way sub-par as their price would seem to imply and you can sit back, relax and enjoy some pretty crystal clear acoustics, complemented by decent lows. If you are wondering how it made our list, here are a few reasons.
Not only do these speakers pack 300 watts peak power per speaker, but also remarkable frequency range alongside great power handling features. Design is also worth mentioning here and you would be surprised by just how much the manufacturer went out of its way to make it look good. We have reviewed many Kicker speakers before and what stands out every time is their distinct ability to offer great value for your money. In a nutshell, with the 40CS654 you can expect decent sound at affordable prices.
Given the price of the Kicker 6.5 car speakers, you don't expect to bump into the highest quality sound. Mid frequency range is above average and so are the highs. The lows, however, aren't anything to write home about.
Also Great: Alpine – JL-Audio – Hertz
There are a good number of popular brands that made our cut for 6.5-inch speakers. For instance, the Infinity Kappa 62.11I 150 watts, 6.5 inches, two-way coaxial speakers performed exceptionally well at producing quality high and mid frequency ranges. Alpine SPR-60 6.5 inch Type R Speaker set is a great option for those that enjoy listening to the favorite music genre in high volumes thanks to its all-rounded performance and for those that seek unmatched bass and heart throbbing low frequencies, the JL-Audio C5-650X 6.5 car speakers should do the trick.
You may also be interested in checking out the Hertz HCX 165 6.5 inch Hi-Energy coaxial speakers going by the numerous positive reviews they have been receiving lately.
The Best 6.5-inch Component Car Speakers Review
Our Pick: Alpine SPR-60C 6.5 Inch Component Speakers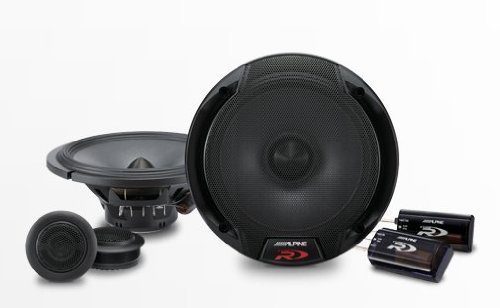 Looking for an all-rounded speaker set that combines good sound propagation with great aesthetic features? You should probably consider checking out the SPR-60C component speakers by Alpine. It is indeed a pricey option compared to the others on this list, but worth every penny on its price tag due to the reasons below.
Before anything, the 6.5 inch SPR-60C packs a mind-boggling 330 watts peak power per speaker! If that in itself isn't enough to justify its position on this list, I don't know what is. Besides that, Alpine speakers have an impressive frequency response of 65 Hz to 29 kHz – among the best we tested and a sensitivity of 87 dB. This Alpine system features one-inch wide silk dome tweeters complete with a swivel mount to make it easy for DIY enthusiasts to do their thing.In a nutshell, the woofer is durably built with separate grilles, polymer/mica composite cone and butyl rubber surround for big, rigid
In a nutshell, the woofer is durably built with separate grilles, polymer/mica composite cone and butyl rubber surround for big, rigid lows. If you enjoy listening to your favorite music in high volumes, the SPR-60C was specifically designed for you.
This Alpine 6.5 inch SPR-60C speakers are not particularly good at producing powerful lows but it makes up for this greatly by facilitating fatigues huge sounds.
On the Budget: Pioneer TS-A1606C A-Series 6.5″ 350W Component Speakers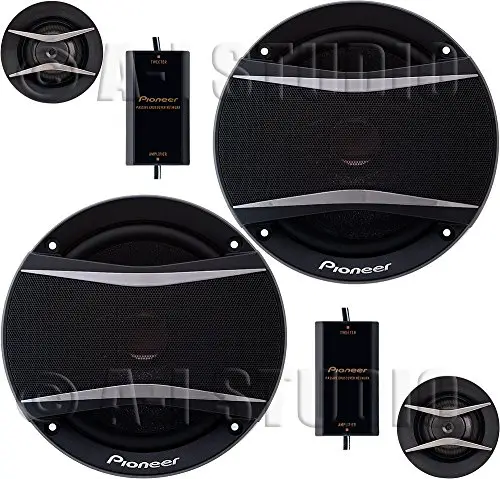 Pioneer set is by far the cheapest option you have if upgrading to a reasonably fair component system is your main goal. However, the low price shouldn't fool you into thinking that it is anyway a sub-par product. Let's have a look at some of the great features to expect. Topping the speakers' pros is the great value for money they offer. TS-A1606C is an ideal option for those starting out on component kits as they make their way up building a robust comprehensive audio system in the process. They pack all the best goodies that come with premium products, such as impressive frequency range, alongside high sensitivity.
Woofers are designed using high-grade mica-matrix material to ensure that it remains rigid even in high volumes. The lows are simply exquisite and you need not have an aftermarket stereo to enjoy the decent bass produced by these speakers. Pioneer TS-A1606C isn't the set to go for if you enjoy heavy bass. It is a bit lacking in that area but works perfectly fine as a comprehensive component system. In short, only avoid them if ground-pounding bass tops your list of requirements.
Top Of The Line: System242-GT Dynaudio 6.5 Inch Two-Way Component Speakers
Unless you are a component system enthusiast, chances are you are unaware of this brand. New Dynaudio 6.5 car speakers are exclusive and actually, only few car owners have the System242-gt installed in their vehicle. If you are looking for the ultimate upgrade option currently on the market, this is the system to go for.
The two-way speakers are not only classically designed but also engineered to perfection. Every distinct bass line and acoustic will end up exactly where it should thanks to the effective crossover. Tweeters, in particular, have a wide frequency range that is quite impressive. Basically, you can expect powerful and precise sound propagation with the System 242-gt.
The only downside with these speakers can be pegged to their bank-breaking price. But if quality is what you truly seek, this shouldn't be a problem.
Also Great
The above 6.5 component car speakers are arguably the best out there but this does not in any way mean that there are no other decent systems you can use to upgrade your audio performance. The Hertz HSK-165.4 two-way speakers, for instance, have a frequency range that will make you think twice. For the bass heads, the Morel Tempo 6 two-way speakers are just the speakers to go for besides those above.
If you are looking for an all-rounded performance speaker set with both quality highs and lows, at an affordable price, it would then be in your best interest to check out the JBL GTO609C Premium component speakers. Also worth checking out is the PS165 High Performance component car speakers by Focal.
Essential 6.5 Car Speakers Buying Tips
That notwithstanding, best 6.5 car speakers are highly reliable as all-rounded performance speakers. However, they complement other speakers quite well and often, work exceptionally well in complete systems. That said, finding the perfect match for your car isn't as easy as picking the first set you come across and you will have to know a few things prior to settling for a specific pair. Let's have a look at what exactly distinguishes low-quality speakers from the best.
As stated, there are a few essential factors you will need to consider before heading out to shop for 6.5 inch speakers for your car. Let's delve on the main aspects.
Design material
It is paramount to note that the one thing that really makes the difference in regards to the audio quality is simply the type of material used to design the speakers. Basically, a high-grade material is always effective at producing crisp sound waves hence resulting in an overall quality sound.
Cost factor
You may be reluctant investing a good amount of your hard-earned cash in a high-end set of 6.5 car speakers, but this shouldn't be the case if what you really yearn is a great audio experience. More often than not, in the audiophile world, the cost of a specific set of speakers will reflect the material used in the design. In a nutshell, the price tag pegged to a specific brand may just be the difference between listening to song with all accompaniments involved and simply hearing a song. However, this is not to say that you can't find a decent set without burning holes in your pocket.
This is just a glim of our buying tips. Here you can read our complete guide on: What to look for when buying and comparing car speakers!
Wrapping it up
The variety of 6.5 car speakers on the market is wide enough to give you headaches while shopping. This means you will have to choose from a variety of brands and features to find the most ideal for your vehicle. However, fret not as the list above should give you a rough idea of what exactly to go for. Be sure to identify your specific needs so as to know what exactly to look for.
*Any prices mentioned in the article were at the time of publishing and are subject to change. Any price and availability information displayed on Amazon.com or Amazon.co.uk at the time of purchase will apply to the purchase of this product.