If you're still rolling on stock speakers in your car, then you seriously need to upgrade. Unless you own a top of the line luxury sedan or coupe, your vehicle is probably outfitted with something like a dual coaxial full range OEM speaker solution. These will probably be mounted somewhere along the length of the dash, or the doors/roof.
In a Hurry? Check Out Dual 12 Inch Subwoofers on Amazon!
Think about it- a large part of the quality of your driving experience is determined by the quality of the car audio, and if you spend 4-5 hours daily inside your car, be it for commuting or touring, trips, long drives, etc. you need a real sound system to back up the driving experience.
No matter how much you deck up the interiors, a poor quality OEM audio solution with thin and hollow audio is enough to spoil the entire experience.
Winner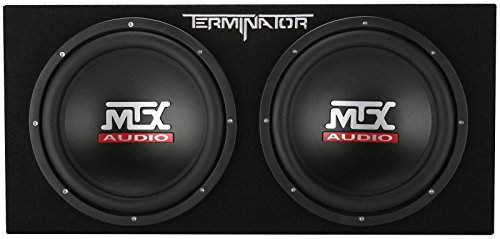 Our Pick
MTX Audio Terminator Series Dual 12-Inch Sub Enclosure
5/8" MDF enclosure, aviation grade black carpet cover, ample amount of venting
If you're thinking how you can change all this, the first big step you can take is to add in a pair of subwoofers. Yes, you can also add in a single, larger subwoofer, but they will usually need extra power and you'll have to upgrade the amplifier or stereo receiver of your car.
Unless you want to take the vehicle to a shop for upgrades and pay a hefty amount just for attaching an extra woofer, you'll probably want to stick with something that allows you to make the upgrade much more conveniently.
Dual 12" subwoofers are the best because of their incredibly nimble response, tight and punchy bass, as well as lower power requirements. You'll still need an aftermarket amplifier with most, but the power of the amplifier doesn't have to be over the top.
Dual 12 Inch Subwoofers: What to look for?
There are some things that you need to pay attention to while purchasing a new dual 12-inch subwoofer, in order to ensure that you are satisfied with your overall audio experience. These include- enclosure type, cone material, frequency response, magnet quality, RMS power.
Enclosures for woofers are always ported and made from high-quality MDF or wood, with carpet covers on top of the box in order to dampen unwanted noise. The enclosure may be front or side ported, some even carry rear porting. Porting enhances the overall soundstage and allows the lower frequencies to shine.
Magnet quality plays a big role in determining the frequency response as well as the clarity of the speaker.
Neodymium magnets are the best, although most low-midrange subs will contain Ferro-ceramic magnets. One final thing, that needs to be paid attention, is the actual size of the speaker enclosure.
Measure the dimensions of the space in your car where you plan to fit your new dual 12" setup. It could be somewhere under the seats, in the trunk (most common), or even the roof/dash if you own a truck or SUV.
Make sure that the speaker which you have chosen will fit in comfortably, also note its impedance as well as RMS power to make sure that the numbers match up with that of your receiver or amplifier.
Our Pick: MTX 12 Inch Terminator Series TNE212D
Our Pick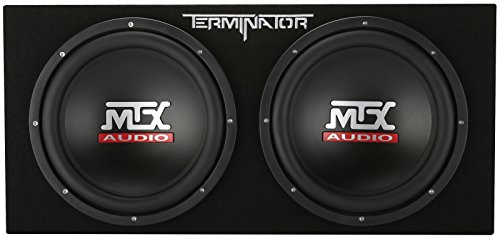 bang for your buck
MTX Audio 12 Inch Subs TNE212D
If you want amazing audio quality at a reasonable price, look no further than the MTX Audio Terminator subs.
These petite (14" x 29" x 13") 12-inch dual subs pack a punch and in most cases, you won't even need an external amp to power them since the internal A/B class amplifier already generates plenty of juice to keep the 400 W drivers happy at all volume levels.
Yes, that is 400 W RMS, not peak. The peak is a whopping 800 W, although the speakers can go as high as 1200 W before they begin to break down. They have been optimized for usage with the MTX THUNDER500.1 amplifier, although you can run these off pretty much any amp that delivers 300-500 W of power at 2 ohms.
An aviation grade black carpet surrounds the entire 5/8" super-tough MDF enclosure. This carpet is labeled as "aviation grade" because it is made from the same materials that are used in noise dampening carpets for airplane cockpits and cabins.
Impressed yet? Well, you're not the only one. We wholeheartedly recommend this dual 12" sub for just about any car- whether it is an SUV, sedan, coupe, or hatchback. The front porting really helps bring out the subtle, yet powerful sub-200 Hz frequencies. On the con side, it requires a pretty hefty amp to make the most of the 400W RMS.
Your windshields are literally going to tremble if you pump this dual woofer setup all the way up to 100% volume when it is connected to a good amp that supplies all of those 400 watts at 2 ohms.
The front ported enclosure means that you should probably fit these inside your trunk or under the seats for maximum bass release, although the size of this speaker does mean that it will actually fit under the dash of a large SUV (Cadillac Escalade, Hummer, etc.) or truck.
Just remember, though- be prepared to purchase a beefy amplifier if you plan on pushing this dual sub to its limits.
Runner-Up: Dual Illumination Bandpass BP1204
Runner Up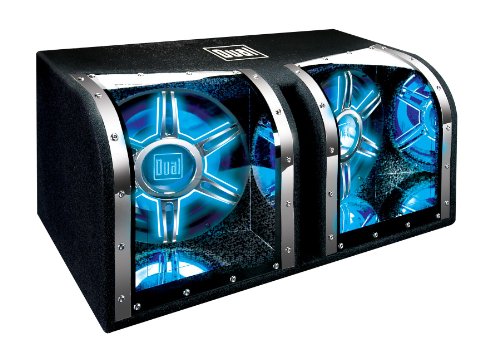 ALSO GREAT
Dual BP1204 12-Inch
Acoustically optimized enclosure, blue illumination with plexiglass windows, built-in A/B class amp
If you are doing a total makeover of your prize car, and are outfitting it with neon lights, spinners, custom paint, etc. then you must try out one of these subwoofers.
But hey- even if you're not into jazzing up your ride, they would still make a great addition to your car. And no, we are not saying that because they look like carnival lights from a Chinatown street procession. These things actually sound really good, with plenty of tight and punchy bass.
The enclosure is acoustically optimized, meaning that it will deliver consistent performance irrespective of the internal dimensions or cabin shape of your car.
The plexiglass viewing window provides a neat little aesthetic touch, while the brushed aluminum injection-molded woofer cones provide tons of clean, consistent bass.
Also, they look really sweet with the blue light shining through them! With an RMS power rating of 600 W and a peak power rating of 1100 W, there is never going to be any shortage of audio output.
The dual 12" drivers are optimized to maintain a low- factor, and they are supported by 45 Oz. ferro-ceramic magnets. Blue lights might be a little annoying to some, enclosure shape is pretty unconventional.
Top Of The Line: JL Audio CP212-W0V3 Dual 12″ 12W0v3 Ported Subwoofer
Top Of The Line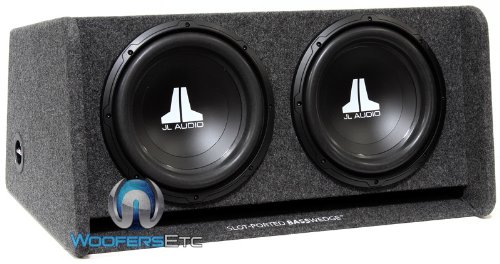 HIGH CLASS
JL Audio Dual 12" Subwoofer
Gray carpet finish looks gorgeous, mineral-filled polypropylene cone for greater stability and consistency, large roll surround
If you are willing to shell out top dollar for something that is absolutely top-notch and no-compromises, then take a look at the JL Audio CP212.
Many car owners swear by JL Audio, and will not purchase any other brand simply because of the fact that JL Audio has been delivering top quality audio solutions for cars for several decades.
They did not fail to impress this time either, as the CP212 sounds as good as it looks. Starting off with the exterior- a gray carpet adorns the tough MDF enclosure that lies underneath.
The carpet dampens shocks from the car body, allowing the drivers to produce clean and noise-free audio at all times. MDF enclosures are preferred for high-grade speaker enclosures because of their natural resonance tendencies which tend to match that of most speakers.
Also, they are extremely tough as well as light. The mineral-infused polypropylene cone is not too light, nor is it too heavy. This means that the bass produced from this dual sub feels really warm and natural without any standout peaks or flat notes.
The surround on the cones is pretty large and highly elastic, which allows for a rather large role.
Also Great: Pyle PLPPS212 Pyle Power
Also Great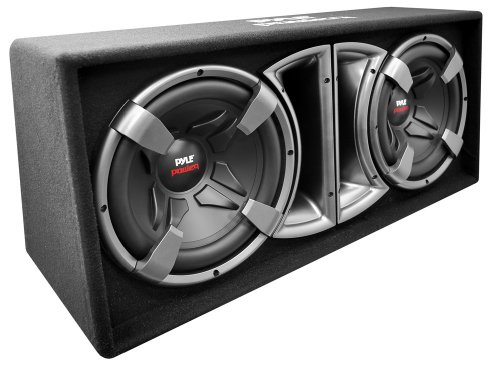 Other Alternatives
Pyle PLPPS212 Pyle Power Dual 12-Inch Subwoofer Enclosure
500 W RMS, molded polypropylene cone, 2" voice coil, SPL of 91 dB
Do you want incredibly loud, window-rattling bass for cheap? Are you more concerned with overall audio output rather than clarity and quality?
Then you need a really high RMS power rating, probably above 450 W, along with good sensitivity in order to make the most out of all those watts. Well, guess what- the Pyle PLPPS212 dual 12" sub has both of those.
With an RMS power rating of 500 W, it is more than capable of shaking your windows as well as your eardrums. The 91 dB SPL means that it is extremely efficient with power and will output more decibels per watt of power supplied.
The overall bass quality is decent though and is not at all special even though the enclosure is actually pretty high grade. And that is why we included this sub in the list- its low price and high-quality enclosure make this a very good purchase, so if you ever feel the need for the better sound quality you can just swap out the default drivers for something better.
And it's not like the default drivers are bad, they just lack clarity at the super low ends, and the mids seem slightly flat. Some EQ can help with that, or you can just pump everything up to max volume and impress everyone at the traffic stop with your window-rattling bass. Even though the enclosure is good, the sound seems a little weak and flat.
Also Great: VM Audio Dual 12″ 400 Watt
Also Great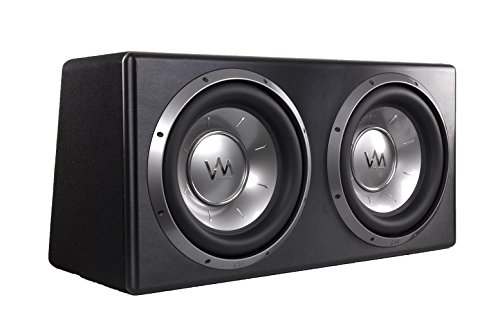 Worth Considering
VM Audio Dual 12" 4800 Watt Complete Car Stereo Subwoofer
Vibration-reduction optimized IMPP cone, high excursion linear mechanical suspension system, weather resistant rubber surround
Remember our top pick? Those speakers came with a 400 W RMS and high sensitivity, which allowed them to sound extremely loud, and the sound would not distort even at super high volume levels.
Well, we found another speaker from a different company with the exact same characteristics. However, this one is classified as "worth considering" because of some simple design flaws that cause it to perform at a lower level than it actually should. We will talk about those later, but for now, remember that these sound as good as any other dual 12" sub in this price range.
The vibration-reduction optimized IMPP cone is one of the best cone designs that we have seen on any woofer, it actually reduces the amount of unnecessary vibration and makes the overall bass much cleaner and tighter.
Electro and dubstep sound heavenly. Rock and metal also sound amazing on these speakers because of the powerful 400 W RMS and high sensitivity levels.
The weather-resistant rubber surround and high excursion linear mechanical suspension give the cone plenty of headroom to oscillate to its max potential at all frequency ranges, and the result is warm, powerful, natural sounding bass at the low ranges, with tight and punchy mids.
So what is wrong with these? Well, the enclosure has not been optimized properly and we felt as though a 400 W speaker with such good sensitivity should deliver more attack and punch.
The front ports seem a little too restrictive, while the shape is a little too large at 34" x 17." x 14.5". This means that hatchback and compact car owners will have difficulty installing these. Not to mention the fact that you need a pretty good amp to push the dual 12″ drivers to their max potential.
You might need a powerful external amp to make the most out of these as the internal amp tends to underperform at high volume levels.