Alpine and JBL are the top contenders for car speakers, and you might be confused about which one to buy. Well, so was I. If you think I couldn't decide between the two speaker series, so I got both to compare – then you will be right. That's precisely what I did, so you wouldn't have to.
I tried the Alpine S-series and the JBL Club series and came to one conclusion. I preferred the Alpine. Not only is the Alpine more durable than the JBL, but it also offers a clearer and softer sound. Now it might be my preference for music that made me choose Alpine, but I've broken things down below for you to decide.
Alpine S-Series vs. JBL Club Series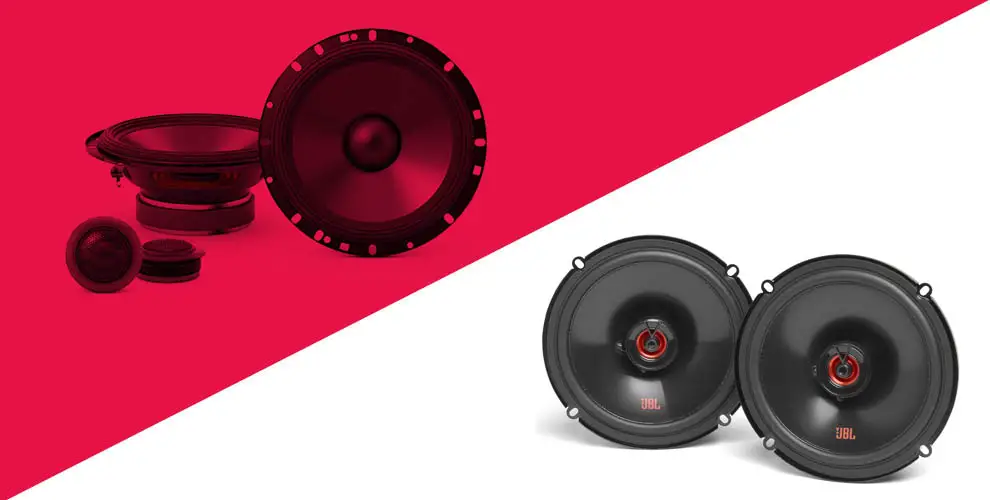 The Alpine S-Series and the JBL Club Series are the most in-demand speakers in the market. However, there can only be one winner in the race for best speaker. Therefore, I will break them down based on different features to help you decide which is better. Below is a detailed explanation of how these two speakers compare in terms of different factors.
Available Sizes
In terms of sheer number, Alpine takes the lead in available speakers, with one more than the JBL club series. The JBL club series has eight speakers, whereas the Alpine Series has nine. However, there isn't much of a difference in size since they both offer variable sizes.
The available sizes for the Alpine S Series are:
On the other hand, the available sizes for the JBL Club series are as follows: 
Therefore, while the Alpine S-series are smaller, the largest size available for both speakers is the same. Moreover, the JBL Club Series offers a greater range of available sizes than the Alpine S-Series, although the difference is minimal.
Build quality
In terms of build quality, the two speakers differ significantly. The JBL Club Series use Polyetherimide (PEI) for their tweeter and polypropylene for their woofer. On the other hand, the Alpine S-series uses silk for its tweeters and carbon fiber-reinforced plastic (CFRP) for its woofer. Both series use rubber for their woofer surround and offer a one-year warranty.
I believe that using PEI is a supreme move on JBL's part. Not only is PEI less costly than silk, but PEI tweeters also allow for brighter play than silk. Moreover, silk requires much more power than PEI speakers. In terms of woofer composition, the point goes to JBL as well.
Polypropylene is an excellent choice because it does not absorb moisture, affecting the speakers' overall sound. Moreover, polypropylene cones offer a low distortion. While CFRPs are a great material, they are expensive and conduct heat faster than polypropylene.
Sound
Coming to the main factor that everyone will be comparing the JBL and Alpine speakers for, and rightfully so. Sound plays an essential feature when you choose a speaker. In terms of sound, things get a little complicated.
First, talking about the nitty-gritty details. The JBL speakers have a sensitivity of 93 dB, while the Alpine has a sensitivity of 88 dB. The hard and fast rule is that 88db is considered average for speakers, while anywhere above 90db is considered excellent. Since that's the rule, I'm in no position to disagree.
Moreover, the JBL Club Series and the Alpine S-series offer excellent frequency response ranges of 53-21k Hz and 70-22k Hz. Therefore, there isn't much difference to compare in terms of frequency response.
While it might seem like the JBL have the upper hand regarding sound due to its sensitivity, the Alpine quickly catches up with a Max RMS power capacity of 80W compared to the JBL, which has a max RMS capacity of 60 watts.
Moreover, the Alpine has a greater peak power handling of 140 watts, while the JBL has a peak power handling of 180 watts. This means the Alpine can handle a greater amount of power without being damaged.
Price
The Alpine S-series speakers can cost anywhere from $80 to $200. The JBL Club series can cost anywhere from $80 to $140. Moreover, most JBL speakers are below $140, while most Alpine speakers are more than $140. Hence, if you want to buy a less costly speaker, JBL is the way to go.
Verdict
The final choice of which speaker to get depends on what you are looking for. If you want your speaker to play louder, you might want to get the JBL club series speakers.
However, if you prefer that your speakers play softer, you might do well with Alpine speakers.
Moreover, if you like to listen to music with a lower bass, you might prefer the JBL more than the Alpine.
While both the Alpine S-series and the JBL club series are excellent car speakers, there can only be one king of the jungle. However, the one who decides who the king is is you.
The last thing I can tell you is to choose a speaker based on your preferences and whatever suits you. Like the Alpine and JBL speakers, we are all built differently.
Related articles:
Alpine vs. Kenwood [Head Units and Speakers compared]
Alpine vs. JL Audio [Speakers Compared]
Alpine vs. Rockford Fosgate [Speakers Compared]
Pioneer vs. Alpine [Head Units and Speakers compared]
Alpine vs. Sony [Head Units Compared]