I prefer the Kenwood head unit over the Alpine, as it offers more functions and features while supporting an elegant design that allows many custom features.
Regarding the speaker, the Alpine and Kenwood are more similar than not. While the Alpine offers a better sound quality than Kenwood, the Kenwood is more durable and has a greater power output and frequency range.
Below, I compare two of the most popular head units and speakers of Alpine and Kenwood, discussing the different features of both. Read below to find out which of the two brands is better for your car.
Alpine iLX-W650 vs. Kenwood Excelon DMX706S [Head Units Compared]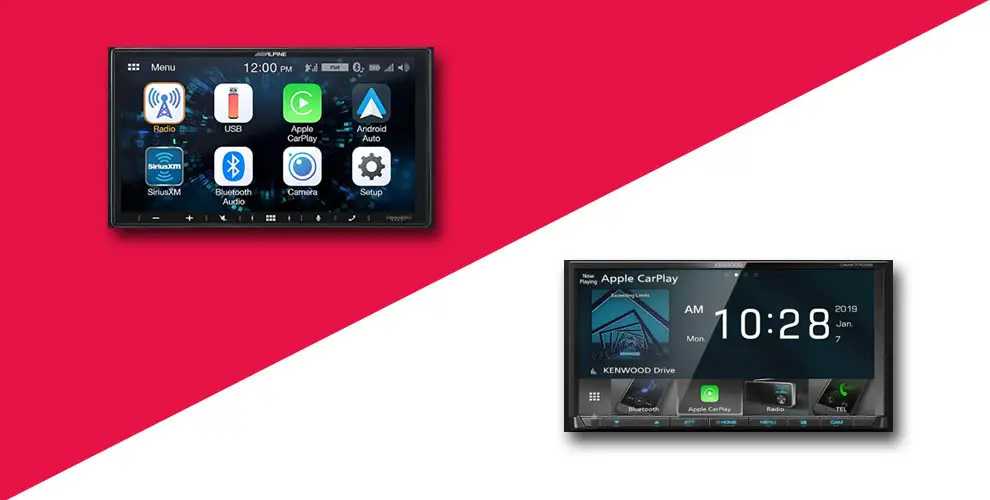 The two head units I'll be comparing are the Alpine iLX-W650 and the Kenwood Excelon DMX706S. They are both excellent head units that offer a range of functionality. However, which is better? I have compared them below.
Features
In regards to features, the Kenwood Excelon DMX706S takes the price. It's not that the Alpine iLX-W650 doesn't offer excellent features. They both have a USB input in the rear and back camera input. Moreover, they both have CarPlay. Other similar features include:
Memory Card Slot
Bluetooth
Navigation
iPhone compatibility
However, the Kenwood offers more and better features. For example, the Kenwood head unit uses a SiriusXM 3.0 satellite radio system, whereas the Alpine uses a Sirium XM. Moreover, while both are compatible with iPhones, Kenwood is applicable with models going back to iPhone 5, while Alpine goes back to 5S. That may not sound like much, but I rarely know anyone who gets an S-model of iPhone.
The Kenwood has 13 EQ bands, offering more control over the audio, whereas the Alpine only has nine. Additionally, the Kenwood comes with two-year parts and labor warranty, while the Alpine comes with a one-year warranty.
Moreover, Kenwood offers more features than Alpine. Some of the features present in the Kenwood but not the Alpine include:
AUX input
Variable key button color
Wireless remote
Radio data system
High-resolution playback
Second Camera Input Lane Watch
The Alpine offers an RMS Power of 16 watts, whereas the Kenwood offers an RMS power of 22 watts. Moreover, the Alpine has a lower peak output of 45 watts compared to Kenwood's 50 watts peak output. They both support a power bandwidth of 20-20k Hz.
Both systems allow phone and messages and are fully compatible with iPhone and Android applications.
Design and usability
In terms of design, I prefer Kenwood. The Kenwood has a 6.95" clear resistive touchscreen display, whereas the Alpine has a shallow mount chassis design with a 7″ screen size.
Moreover, the Kenwood gives a range of options for the key button color, whereas the Alpine comes in white only.
The Kenwood has an LCD touchscreen with LED backlighting, providing a crystal clear display and vivid text. The Kenwood LCD has an 800 (H) x 480 resolution with 1152000 pixels. The background colors come in nine choices. On the other hand, the Alpine also has a similar resolution and total pixels. However, the display setting is limited in their options.
In terms of usability, both systems offer similar functions. However, the Kenwood takes it up a notch with a parking brake interlock that prevents video display unless the parking brake is engaged. I like this feature since it ensures safety. If you want to watch videos in your vehicle, you shouldn't be driving.
Price
The Kenwood Excelon DMX706S can cost you more than $500, whereas the Alpine iLX-W650 can cost anywhere between $300 to $400. The price difference is rather steep if you think about it. While the Kenwood offers many features, you have to consider these features worth more than $100 compared to the Alpine.
Verdict
If you are okay with the price and demand that your head unit has more features, you would like the Kenwood. However, if you prefer the head unit to be less costly and have the essential features, you might like the Alpine. They are both great options, but the ultimate choice depends on what features you want and how much you are willing to spend.
Alpine S-Series vs. Kenwood Performance Series [Speakers Compared]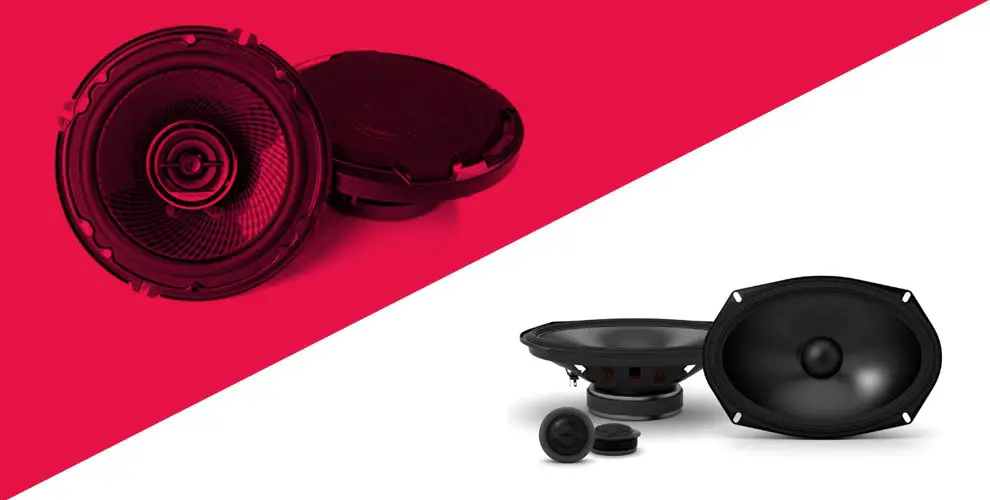 Both company speakers are at the top of their brands and are the most popular choice when it comes to car speakers. However, which one is better?
Available Sizes
The available sizes for the Alpine S Series are:
On the other hand, the available sizes for the Kenwood Performance Series are: 
Therefore, if you are looking for smaller speakers, you might have better luck with the Alpine S-Series as they have a wider range, whereas the Kenwood Performance Series starts with four-inch speakers. However, you might prefer Kenwood if you are looking for a greater range of larger speakers.
Build Quality
The Kenwood speakers have a tweeter composition that comprises polyetherimide (PEI), while the Alpine speaker has a tweeter made of silk. PEI plays brighter than silk dome tweeters and does not require as much power. Moreover, PEI is a more affordable and readily available material than silk.
Kenwood woofer is made of polypropylene, while the Alpine woofer is made of carbon-fiber-reinforced plastic. Carbon-fiber reinforced plastic is stiffer and offers a controlled breakup for smoother high-end roll-off. On the other hand, polypropylene is easy to work with and is more resistant to deformation due to temperature. You might prefer polypropylene if you want your woofers to last longer, but you might prefer carbon fiber-reinforced plastic for better-quality sound.
Both speakers support a woofer surround made of rubber and offer a one-year warranty.
Sound
In terms of sound, let's talk about the Alpine S-Series first. The speakers have a sensitivity of 88db, which is good, but not the best. Moreover, the speakers offer a frequency response range of 70-22k Hz. Almost all of the speakers in the series offer a peak power of 260 watts and an RMS power of 85 watts.
On the other side, Kenwood Performance takes the win over peak power and RMS power, Te KFC-6996PS offers a whooping 650 watts peak power and an RMS of 150 watts. Even the smallest 4" speaker offers a peak power of 220 watts.
Both speakers have an impedance of four ohms, showing similar efficiency in extracting power from the main system.
Therefore, in terms of loudness and sound, the Kenwood Performance series takes the prize.
Price
The price for the speaker series falls in the same range and can cost you anywhere between $180 to $200. However, while the price range is similar, most Kenwood speakers are more expensive. Hence, price is a rather menial factor in comparing the two speakers unless you are sure of exactly which speakers you want. So, if you plan to buy a less expensive one out of the two, there is no one right answer.
Verdict
If you prefer a louder, long-lasting speaker with a greater frequency range, you might want to go for the Kenwood Performance Series. However, if you prefer a speaker with better sound quality, you might prefer the Alpine S.
Final Thoughts
While both products are at the top of the market, there can be only one winner. There is no doubt that both Alpine and Kenwood head units and speakers are great options, but I would personally go for the Kenwood. The Kenwood head unit has more features than the Alpine head unit, and the speakers offer greater power output.
While Kenwood is more expensive than the Alpine, the features and options you get are worth it. Moreover, you can consider it a one-time cost as you won't buy them every six months, so it's fine to splurge a little.
FAQ
Is Alpine Better Than Kenwood in Terms of Product Quality?
Alpine speakers and head units are known for their product quality. However, the features and price, coupled with the warranty, bring Kenwood shoulder to shoulder with Alpine regarding product quality.
Related articles:
Alpine vs. JBL [Speakers compared]
Pioneer vs. Kenwood [Head Units Compared]
Alpine vs. JL Audio [Speakers Compared]
Alpine vs. Rockford Fosgate [Speakers Compared]
Pioneer vs. Alpine [Head Units and Speakers compared]