If you are confused between Kenwood and Pioneer for choosing a car audio unit, I understand your frustration. Both brands hold a parallel status in the global market for their excellence.
Having experience with both, I would choose Kenwood over Pioneer any time due to superior audio quality and excess features. Since everyone has their preferences, I have compared the two brands and their double and single DIN units to help you decide.
Is Pioneer Better than Kenwood in Terms of Product Quality?
Comparing these two brands can leave you scratching your head. Both have a credible reputation globally for their superior product quality and features. It really comes down to price tags when choosing between the two. If I were to make a decision that would go a long way, I might choose Kenwood over Pioneer.
Pioneer DMH-1500NEX Vs. Kenwood DMX7706S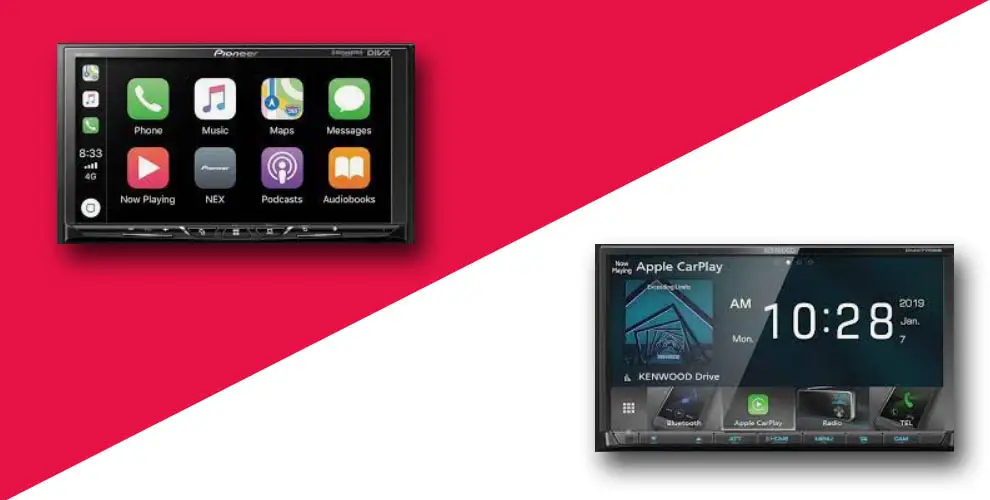 To start with, I will compare popular double DIN head units from each brand Pioneer DMH-1500NEX and Kenwood DMX7706S. Each has its market. I have had experience using both, so I will incorporate my knowledge to help you choose.
Features
Both head units feature a 7" LCD with AM/FM tuners and Bluetooth support to help you connect your smartphone on the go. The Android Auto and Apple CarPlay compatibility further maximize your ease of playing audio from your phone.
Being a picky guy, I customized each display unit to see if it was possible. Yes, you can do that to suit your preferences. Overall, Kenwood and Pioneer head units can comfortably fit into most double DIN dashes.
What I liked about Pioneer DMH-1500NEX was its flexible switching between radio and smartphone for playing preferred audio. You can also benefit from the rearview camera option when reversing your car. To be fair, Pioneer can run some improvements in the camera for better visibility.
On the other side, Kenwood DMX7706S impressed me with its efficient smartphone integration that allowed me to use navigation, send texts (rarely, though), and make phone calls without interruptions. An added advantage for choosing Kenwood is its two video outputs for front and rearview cameras.
Smartphone Features
Moving on to smartphone compatibility, Pioneer offers Android Auto and Apple CarPlay integration for smooth cross-platform functionality. I really liked the WebLink integration to access Alexa for voice commands.
Moreover, the head unit is compatible with Siri Hands-Free and Google Assistant. To give it a top view, I found the Pioneer head unit an all-rounder, covering most needs.
However, I would like to grab your attention to review the Kenwood head unit in this regard. The brand went ahead to offer superior connectivity to Android and iPhone users. You can make hands-free calls, enjoy Android Auto and Apple CarPlay integration, experience Bluetooth hallow dual phone connectivity, and Siri Eyes Free control (iPhone 5 and above).
If you are a Google user like me, you will enjoy the seamless Google Assistant control over your Kenwood head unit. Hearing from a close friend, I thoroughly appreciated Kenwood's rapid charging option for iPhone users.
Video
Audio/Video Comparison
To be honest, I did not find many differences that could drive me away from either of the head units regarding their audio outputs. Both multimedia receivers offer a 22-Watt RMS to their 6-channel outputs with a maximum power of up to 50 Watts.
Both systems rely on a 24-bit/192kHz digital-to-analog converter for HQ audio. Additionally, the MOSFET amp helps to reduce distortion in sound at higher volumes, making it softer on the ears.
Coming down to specifics, the Pioneer head unit offers a high-pass and low-pass option for audio geeks on both speakers (front and rear) and the subwoofer unit. Moreover, the 13-band equalizer offers a range of settings to choose from. A few other features I enjoyed about using the Pioneer receiver are timed play, audio positioning, and source adjustments.
If I talk about Kenwood, it gives you 2- and 3-channel crossovers for high, mid, and low-pass audio filters. Like Pioneer, the 13-band equalizer helps you choose from a list of presets and a custom band to suit your needs.
If I speak about the display units, both met my expectations with their 2520 x 480 LCD touchscreen display for sharper image quality.
Design and Usability
Kenwood and Pioneer are equally good in their design and usability. If you opt for Kenwood, you can easily access the illuminated controls on the left edge of the display. The dimmer control helps you adjust the brightness according to your needs. Personally, I liked how it gets softer at night on lower brightness, unlike many other display units. Additionally, you can access controls from your car's steering wheel by installing the Kenwood Remote S app on your phone.
Choosing the Pioneer head unit gives you bottom-edge illuminated control buttons. The dimmer control comes in handy while keeping your focus on the road. Like the Kenwood head unit, the Pioneer receiver also supports multimedia steering control.
Price Comparison
If it comes down to the price tag of each, Pioneer is cheaper to buy than Kenwood. You can get Pioneer DMH-1500NEX for $350-$500, while Kenwood DMX7706S can cost you $600-$700.
Verdict
If you can spend more, I recommend buying the Kenwood double DIN head unit due to its attention to detail in various departments and its positive reputation. However, there's no downside to settling for Pioneer.
Pioneer DEH-S6220BS Vs. Kenwood KMM-BT728HD
If you need a single DIN head unit that covers most of the requirements of the above double DIN head units, let me compare Pioneer DEH-S6220BS and Kenwood KMM-BT728HD for you.
Video
Features
A primary classification between the two single DIN head units is the option of the disc. The Kenwood KMM-BT728HD relies on a digital system, while the Pioneer DEH-S6220BS is a disc-based receiver with AM/FM tuners. Kenwood has the competitive edge of a built-in HD radio tuner. Both head units feature built-in Bluetooth and support various audio formats, including FLAC (on USB), MP3, WAM, and WAV. Additional features include Alexa compatibility and daily news updates.
Smartphone Features
If I compare the smartphone features, Pioneer allows you to use the Smart Sync app to gain access to multimedia controls, voice assist, and other features. I also tried charging my Google phone using the USB port, which was satisfactory. iPhone users can also avail of this benefit.
Kenwood offers (pretty much) the same features. However, I found it more convenient for Android compatibility. You can access playlists, and voice control, navigate through settings, and charge your device using the USB connection for iPhone and Android devices.
Audio/Video Comparison
The audio quality for both head units quickly won me over. Both units remained triumphant for someone paying a lot of attention to audio refinement. Kenwood and Pioneer offer a 22-Watt RMS power to their 6-channel outputs with a maximum power of 50 watts.
Moreover, each head unit features a 24-bit digital-to-analog convertor. The MOSFET amp enhances the sound quality (which I really enjoyed) by reducing distortion. You can also enjoy the high-pass and low-pass audio filters to adjust sound gains.
I did notice that the Kenwood audio filters allow a gain between -8db to 0db, while the Pioneer head unit offers a gain of -6db to -24db. Furthermore, Kenwood gives you a 13-band equalizer to enhance your car's audio settings (with the option to choose between drive and stage modes). The Pioneer head unit relies on bass adjustments, an advanced sound retriever, source adjustment, and a rear speaker setup.
If I compare the video department, the Kenwood head unit features a 1.4-line LCD with multi-lingual support and color adjustments. On the flip side, the Pioneer head unit offers a 2-line LCD with nearly the same features. So, in my opinion, both units parallel each other regarding their displays.
Design and Usability
If you ask me about the ease of use, I will rate both on the same scale. Both head units have a rotary volume knob on the left and control buttons below the display. You can find a USB port on the right of each unit.
Price Comparison
Unlike the double DIN units we compared above, Kenwood KMM-BT728HD and Pioneer DEH-S6220BS have a similar price tag. You can buy these for between $150 and $250.
Verdict
If you like to keep CDs in your car to avoid connectivity issues (although there aren't any), you can go for Pioneer single DIN head unit. On the other hand, if you need smart control of your car's head unit, the Kenwood receiver can effectively meet your needs.
More importantly, you can go for Kenwood if you are an audio geek who notices minor issues in the audio quality.
Related articles: