Choosing the best stereo system for your car can take time and effort. I banged my head a thousand times before landing on a handful of options to choose between double din and single din head units.
On my list, Pioneer and JVC take the lead among the rest. However, if the battle sticks between these two, I would go for Pioneer for its superior quality. But let's not stick to my opinion and compare a few care stereo systems to pick yours.
Is Pioneer Better than JVC in Terms of Product Quality?
To be brutally honest, I always find Pioneer better in terms of quality. Here, I'm not saying that JVC has a lackluster quality. Pioneer has rarely received backlash for its quality over the decades. As one of the best audio companies globally, it effectively holds up to its reputation. You can choose any of the two brands, but if you need to be absolutely sure of your choice, Pioneer may outsmart JVC.
Pioneer DMH-WC5700NEX Vs. JVC KW-M865BW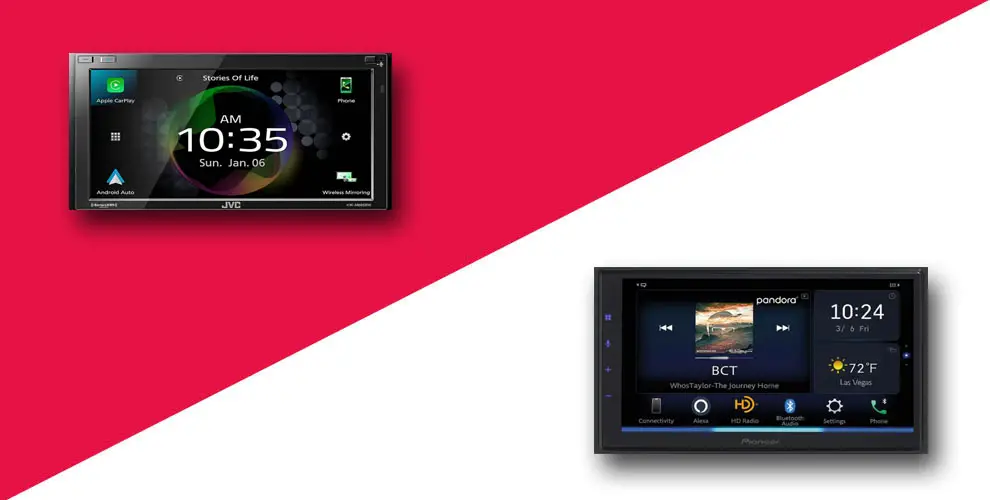 When choosing a car stereo that effectively meets your modern-day needs, Pioneer DMH-WC5700NEX and JVC KW-M865BW can hold up a tough competition. If you like to narrow down to each technicality before choosing one, I have saved you the trouble by comparing each department, including features, design, ease of use, and price.
Features
Let's start with the basics. Both the head units are digital media receivers that can fit your digital connectivity needs. You can connect your smartphone's Bluetooth to any of the two systems and enjoy a seamless audio-playing experience. However, Bluetooth is not the only option to connect your device to the two digital stereo systems. I will shed more light on it later, but before that, let's explore the Pioneer and JVC head units separately.
General Comparison
If you choose Pioneer DMH-WC5700NEX, you will get a 6.78″ touchscreen digital unit that can comfortably fit into your car's double din space with a 12″ cable. You can connect your device to play audio file formats, including FLAC, MP3, WMA, and more. Although the unit size fits most double din spaces, I recommend checking the fitting before purchasing the unit.
Now, let's look at JVC KW-M865BW to know what makes it great. Firstly, the JVC digital media receiver comes with a 6.8″ clear resistive touch display, nearly the same size as the Pioneer unit we mentioned above. What gives the JVC unit a slight edge over Pioneer is its versatility. You can play audio files with a USB, connect your Bluetooth, or connect your car WiFi to enjoy music.
Smartphone Features
Since we live in a time when everything begins and ends with a smartphone, let's dig into the compatibility of both head units with standard smartphone features. In this department, both Pioneer and JVC parallel each other due to smart connectivity compatibility. Connect your receiver to Android Auto or Apple CarPlay and start playing. Moreover, you can charge your phone with the receiver using a USB cable.
Regarding distinguishing factors, the Pioneer head unit allows wireless screen mirroring for selected devices. Again, JVC takes an edge over Pioneer here by allowing wired and wireless screen mirroring for selected devices. However, wireless mirroring may only be limited to Android devices. But having it is still better than not.
Audio/Video Comparison
Comparing the audio, both JVC and Pioneer have a 24-bit/192kHz audio output with a digital-to-analog converter. The only difference is that JVC features a 6-channel, 5-volt preamp output, whereas Pioneer comes with a 6-channel, 4-volt preamp output. You can play around with the pre-set equalizer or the 13-band graphic EQ (featured in both units). I recommend sticking to the default unless you are unhappy with it.
Since both head units have nearly the same display size, you may not notice many differences when using them side by side. Both receivers have a capacitative LCD touchscreen (800 x 80 resolution). Of course, they give you access to adjustment settings like picture adjustment, dimmer, and playback options for different audio formats.
Design and Usability
Personally, I liked the design of Pioneer better. For one, it has a seamless display with no physical buttons to control the volume. It effectively meets the demands of modern technology. On the contrary, the JVC head unit has hard volume buttons on the top left corner. When I used it for the first time in a friend's new car, it seemed like an outdated receiver. More importantly, you must keep tapping the button to turn the volume up or down, a hassle that you will not face using the Pioneer head unit.
Price Comparison
Usually, when there's head-on competition between two stereo systems, the one with the smaller price tag wins. In this case, however, you can find JVC KW-M*65BW and Pioneer DMH-WC5700NEX for nearly the same price, between $700 to $800.
Verdict
I know the above information might be overwhelming for you. Having experience with both units, let me make it easy for you. JVC is what you go for if you need a digital media receiver for your car that offers display-unit settings, excess (modern) features, and better cross-platform compatibility. On the contrary, if you prefer a user-friendly receiver with easy installation and better design, you can quickly pick the Pioneer head unit.
Pioneer MVH-S622BS Vs. JVC KW-X840BTS
Let's not limit your choices to the above two double-din head units. I have two more products in the same category that may suit your needs. Now, let's compare Pioneer MVH-S622BS and JVC KW-X840BTS.
Features
These two head units offer you everything you expect from a modern-day digital media receiver. With a built-in AM/FM tuner, both units support Bluetooth audio connectivity and play nearly all audio formats, including AAC, FLAC, MP3, WMA, and more.
I really liked using the JVC app for media controls. The app features a bi-lingual display text-display feature and built-in Alexa to use all Alexa features seamlessly. While talking about a mobile app to control media, Pioneer is not behind in the race. If you opt for it, you can use its Smart Sync app to control various features like navigation and voice control. Since I rely on Alexa for my day-to-day digital use, I would give a slight advantage to JVC in this regard.
Smartphone Features
Moving on to smartphone compatibility, I find the two head units nearly identical. However, some features might differ. JVC KW-X840BTS is more iPhone-friendly due to its wired connection, allowing seamless playlist navigation. You can also connect it to your Android device for audio control.
If you opt for Pioneer MVH-S622BS, you can experience dual phone-pairing mode. With built-in iPhone and Android support, you can access a handful of features, including voice control. For me, the dual phone pairing was a striking feature of the Pioneer head unit.
Audio/Video Comparison
If you are upgrading from another brand, the audio department for both head units will quickly grab your attention. JVC and Pioneer multimedia receivers take a 22-Watt RMS to deliver a 50-Watt audio output.
Both head units have 6-channel audio outputs that generate a loud, distortion-free sound. The MOSFET amp enhances the sound quality, making it easier on the ears despite the loudness. Of course, you can take control of the 13-band graphic equalizer to set the audio based on your preferences, but I recommend sticking to the default first.
Apart from the above audio perks, the Pioneer head unit features an advanced sound retriever to improve the audio quality of compressed files. On the other hand, the JVC head unit relies on the K2 technology to enhance playback quality for USB and Bluetooth music files. A competitive move some users might like is the 2-line vertical LCD in JVC for improved image quality.
Personally, I don't pay much attention to the image quality since I'm mostly driving alone. You can access display management controls in both units regardless of my preferences.
Design and Usability
What I liked about Pioneer's head unit design is its detachable face to avoid theft. The compact design allows it to fit into most double din dashboards. Although the JVC head unit does not offer a detachable display, it also fits easily into most dashboards.
Comparing the usability of each, you can find the Sirius XM satellite tuner option in both. You can also plug in a USB or an AUX in each unit. Additionally, the compatibility with multimedia steering wheels furthers the user-friendliness of both head units.
Price Comparison
The price tag for Pioneer MVH-S622BS and JVC KW-X840BTS lies in the same bracket. So, it comes down to your feature preferences when choosing a head unit. You can find them between $100 and $200 in most stores.
Verdict
If you need a double din head unit that gives you all-around consistency, from audio quality to user-friendliness, Pioneer MVH-S622BS might be the one for you. On the contrary, if you are willing to compromise features like a detachable display, JVC KW-X840BTS may give you a relatively superior sound.
Pioneer MVH-S720BHS Vs. JVC KD-X480BHS
If you need a single din head unit, let me compare two options that suit your needs.
Features
Pioneer MVH-S720BHS and JVC KD-X480BHS single din head units lack the disc-play feature (but so do the others on the list). They rely on AM/FM tuners with various features to offer easy access. For instance, both units have detachable displays, multi-language support, a rotary volume button, Bluetooth, voice control, and Alexa.
Moreover, like the above double din head units, these single din units offer app support for playlist navigation and media controls. Pioneer uses the Smart Sync app, while JVC relies on its remote control app for smart control.
Smartphone Features
I was happy to find Bluetooth 4.2 in both Pioneer and JVC head units, this time for interruption-free phone calls and music. You can connect your iPhone or Android phone without hesitating about connection issues. Both head units give you Phone Book Access (PBA), dual device connection, and A2DP.
Audio/Video Comparison
Let's start with the power outputs. The Pioneer single din head unit offers a 22-Watt RMS for its 4-channel output with a maximum range of up to 50 Watts. The head unit allows a 70-Watt output for the subwoofer alone.
Moreover, the MOSFET amp allows a distortion-free sound at higher volumes. I loved how Pioneer played smart and offered an additional mid-bass crossover to enhance the sound quality. Opting for this system can give you four loudness levels (high, mid, low, and none). You can also optimize the sound with the position selector so your friends in the back can stop complaining about the poor sound.
If we talk about JVC, its unit offers a maximum of 50-Watt power output for its 4-channel system. It also features the MOSFET amp for efficient sound. If you are a fan of the K2 technology, the JVC head unit uses it to improve audio quality from Bluetooth and USB sources. You can also use the enhanced sound effect to increase the coverage area in the cabin.
Coming down to the display, both head units give you a 2-line vertical display with a high-contrast LCD and a wider viewing angle. Additional features include dimmer adjustment (automatic and manual), brightness control (0-31 points), and an LED backlight. Here, I would like to bow in favor of Pioneer for its better color optimization (210000 colors).
Design and Usability
The JVC unit has a relatively compact chassis that takes a lesser coverage area, making it easier to install. Moreover, it has a slightly bigger display than Pioneer, with a navigation button on the front. Pioneer and JVC units support multimedia steering wheel controls, small buttons, and a volume (rotary) button.
Price Comparison
Pioneer MVH-S720BHS and JVC KD-X480BHS share nearly the same price bracket being the direct market competitors. You can find these single din head units between $100 and $200.
Verdict
Although it's a tie for me, you can choose the JVC head unit if you need easy installation and a (relatively) bigger screen. On the flip side, you can go for Pioneer if you need better display quality and bass-boosting features.
Related articles: