Getting the best car subwoofer and pairing it with the right amplifier are just the first basic steps to building that perfect audio setup. But to have that full, rich-sounding bass added to your audio system you'll also need the right subwoofer box to complete the setup.
Adding the right subwoofer box to your stereo system not only gives the system the extra kick it has been missing but also improves the music listening experience by refining the performance of your speakers.
So, if you're here looking for the best 12-inch subwoofer boxes for your audio system, then you may want to have a look at our comprehensive buyer's guide and some of the best option on the market today.
Single 12″ Subwoofer Box
Sealed
Bbox E12S
If you want that full, rich sounding bass in your car, you should be thinking about the Bbox E12S single 12″ sealed subwoofer enclosure. With this box, you'll definitely enjoy the loud drummers and funky music way better than the original factory stereo system. The major advantage is that you won't need an extra woofer to offer those great sound effects. 
With a cutout diameter of 11.125-inches, max mounting depth of 8-inches and a net volume of 0.67-inch from (Front Height) 13″ x (Rear Height) 13″ x (Width) 15.25″ x (Depth) 12″ x (2nd Depth) 9.25″, the box is safe for speakers and offers the right touch and feel of every music without scratches.
Just like all Bbox and Atrend subwoofer boxes, the Bbox E12ST has been designed and constructed to be strongest and offer the best sound quality. The external panels feature the manufacturer's Miter and Dado construction that adds extra reinforcement and structural integrity to the enclosure. Ultimately, the construction techniques offer unsurpassed sound and build quality that will serve your interest.
To break down the design details, the mitered edge design offers a cleaner tight and an air-tight seal for better sound production and translating into a stronger bond between the surfaces. The dado joint construction offers a precise, high-quality finish that improves the shear strength between the surfaces that can withstand even the hardest-hitting (boomy) subwoofers.
All these amazing design and construction is sustained by a 1-inch thick MDF front-baffle to offer a solid mounting surface and reduce panel flex for the right sound quality, a thick MDF panels to hold out the deepest bass. The MDF construction is followed by a premium charcoal carpet for an amazing look to fit the interior of your vehicle.
Q-Power QBOMB12S
If you think of big, clear bass in your car's tight space, you should consider looking at the Q-Power QBomb single sealed 12″ subwoofer box. Q-power's QBOMB12S single enclosure will help you fit a 12" subwoofer in any tight space in your car. The perfect choice to add some muscle to your music. 
With a 1.3 cubic feet air space and a mounting depth of 10-inches from 13.25" (H) × 16" (W) × 16" (D), this enclosure has the magical and technical ability to lift your mood instantly with a deep touch into your musical world. The magic effect is simply multi-folded since the box improves the speaker's capability to play a wider range of bass frequencies.
The enclosure's construction gives it the strength to withstand hard-hitting subs without any distortions. This sealed design increases your speaker's efficiency, for an impressive bass fire-power from a relatively small box. What's amazing is how you watch the sub swing into action without any hindrances.
The Dual Sealed Chamber technology balances the load on your drivers to ensure sound production is safe without any case of driver overwork. For build quality, the enclosure features a 3/4-inch MDF construction meant to support its heavy-duty functionality.
Then there's the black bed liner spray finishing that gives it the beautiful look, besides increasing the strength of the joints for that air-tight enclosure.
Ported/Vented
BBox E12SV 12″ Vented Enclosure
Most audiophiles are really liking the engineering that has gone into the marking of this great box. The BBox E12SV single ported 12″ sub box has uniquely blended modern design technology with some value adding features to offer the best room for optimum speaker performance. 
Coming from Atrend's line of products, BBox E12SV spots the company's signature construction, which focuses on improving the structural integrity of the box and adding extra reinforcement for balanced performance. This is can be seen through the mitered edge construction that offers tighter seals and a cleaner finish, and the famous dado joint construction to fully support the hard-hitting subwoofers.
The BBox E12SV utilizes its 13.875-inches max mounting depth, 11.25-inches cutout diameter, and 1.12-inches net volume to support 12-inch subwoofers and still produce the perfect sound. And dimensioning at 13.625" (H) × 16" (W) × 17.375" (D) it can fit in the tight space in your car.
Its design inspires great functionality that fits most subs and offers excellent sound for audio. As for its construction and finishing, if features 1-inch MDF front baffle and 3/4 –inch MDF construction which offers a strong mounting surface for better sound quality.
The joints are built using Atrend's special trick glue for a flexible and durable seal. Not forgetting the premium charcoal carpet finishing.
Q Power QBOMB12VL
The QBOMB12VL single 12″ ported enclosure safely houses your speaker for that maximum output and lets you listen to quality music that will set your mood right as you travel.
This single 12-inch box is all about improving the quality of your subwoofer and making it sound amazing.
With an airspace of 1.8 cubic feet and a single vented chamber design, the QBOMB12VL is ideally designed and made for the deepest bass and clear sound quality. The side-vented are strategically designed to reduce the group delay problem, which is a major problem in most ported enclosure styles.
The strategic positioning of the vents helps the box handle different types of music and increase overall sound output at different frequencies without adding sound equalizers.
With size 22″ (W) x 15″ (H) x 13.5″ (D), QPower's QBOMB12VL would tightly do under and even with the back seat's front. But for smaller cars, you can comfortably set it up in the rear and the music can be played without having to worry about the extra boomy because everything is balanced.
The terminals are relatively simple and you won't have to worry about other complications like soldering.
Dual 12″ Subwoofer Box
Sealed
BBox E12D 12-Inch Dual Sealed Carpeted Enclosure
I just love how Atrend has showcased its prowess in setting the bar when it comes to designing and building subwoofer boxes, through their dual sealed 12″ subwoofer box – the BBox E12D. For sure, every audiophile will love the excellent design and woodworking techniques that have been cleverly utilized produce this stunning success.
With a cutout diameter of 11-inches, max mounting depth of 13-inches and a net volume of 2.02-inch from 13" (H) × 30" (W) × 13.75"(D), the enclosure comes with two heavy-duty wooden speaker-mounting space to provide a dependable foundation for your much desired big bass.
As for Bbox's culture, nothing about their special design and construction has been left out. The mitered and dado construction still stands out to give the enclosure a more steady design to support the heavy-duty functionality. The joints and walls are correctly fitted to provide the best build quality you're looking for in a 12″ subwoofer box.
BBox E12D's performance is on another level thanks to the driver MDF construction and sealed truck enclosure that produces the deepest bass to lighten up your moments. The premium charcoal finishing is also vital to match the box with your car's interior.
Ported/Vented
Bbox E12DSV
The Atrend built the Bbox E12DSV vented enclosure to produce car-rattling bass that would amaze audiophiles without the need of adding sound equalizers and extra digital processors. The box is designed to house two 12" subs, so you know that you'll be getting the best out of it.
The Bbox dual 12″ vented sub box uses state-of-the-art design and woodworking, commonly known as the mitered and dado construction technology that makes use of high-quality MDF construction for a reliable performance. The enclosure is sturdy and gives a solid feel. The premium charcoal carpet finishing has a liner and is easy to clean.
With a cutout diameter of 11-inches, max mounting depth of 16.75-inches and a net volume of 2.63-inch from 13.75" (H) × 30.25" (W) × 17.5"(D), this box has got the capacity to support heavy-duty functionality for that perfect sound production.
Away from the perfect dimension, the box has no rattles at high volumes and speaker terminal are placed on the side for easy access.
Q Power QBOMB12V
QPower seems to always make decisive statements when it comes it to the production of stereo components. Earning a spot on this list is the QBOMB12V dual 12-inch vented speaker box that has combined the new generation vented technology into a reliable success.
With a box volume of 1.1 cubic feet for each chamber (resulting in 2.2 cubic feet for the two chambers), you have the best sound quality assurance. It will be as simple as getting the right amp, sub, and doing a proper wiring to have your much-desired sound quality. Just mount the box securely and you'll be ready to hit the road with the right bass.
Away from the compact size that dimensions at 13.75" (H) × 30" (W) × 14"(D), this 12" ported speaker is made from the high-grade MDF wood that helps avoid reverberation by reducing vibrations. The edges and well-fitting panels allow the box to fit in most space, while the high-quality bed liner spray finishing protects the unit against scratches and nicks.
For sure, you don't have to worry about the quality of its sound production.
Bbox A152-12CP – 

Rear seat option
Thinking of something that has been specifically designed for your car, the Bbox A152-12CP Sealed Subwoofer Enclosure may be what you're looking for. This is Bbox'S top release in its new 'Vehicle Specific Series' of speaker enclosures. A department for boxes designed to perfectly fit into your car without consuming the available spaces.
Built from the braced and glued hardwood MDF, the box is very reliable for producing and support your sound quality preferences. The engineers were indeed interested in coming up with a trendsetter that will incline the market towards utilizing modern engineering technology for better enclosures.
With a cutout diameter of 11.125-inches, max mounting depth of 7-inches and a net volume of 2.42 cubic feet from 9.25" (Front H) × 6.75" (Rear H) × 51.25" (W) × 14.75"(D) × 13.13" (2ND D), this enclosure fits perfectly in your car and offers the right touch and feel of every music without scratches.
Its high-quality construction is similar to most Bbox enclosures, but with some small twists to make it special for vehicles only. The enclosure is designed to suit all types of conditions and to ensure the sound quality is never affected, no matter the environment.
Triple 12″ Subwoofer Box
Q Power HD12 Sealed Triple 12″ Sub Enclosure
I just love how most manufacturers are always ready to make our dreams a reality. Most audiophiles have for a long time thought of getting multi-chambered boxes that could go beyond the common dual-chambered boxes.
Forget about those custom triple boxes like single and dual ones. I mean, you need something that has been built by professionals and makes a big difference in terms of sound quality.
The QPower HD12 12″ Sealed triple subwoofer box combines modern engineering with what I call the new generation sound quality fitting to produce an amazing success. It uses a hi-tech wood-working equipment to cover the high-quality MDF box with a smooth finish. This ensures every chamber is completely sealed with no leakages that would affect the enclosure's performance.
With a dimension of 14" (H) × 40" (W) × 14"(D), this unit has a 10" chamber space that can house speakers safely with minimum distortion. Its size also makes it an ideal box for anyone looking for a multi-chambered box that won't take up much space.
4 Hole 12″ Subwoofer Box
Q Power BASS12 4HOLE T
If you thought it just stops at 3-chambered enclosures, then you better think again. Subwoofer boxes can have as many holes as possible, there are no limits. You just have to make sure it is a high-construction with the right features for the best sound production.
Just like most Qpower boxes, the BASS12 4HOLE speaker box is made from the MDF hardwood that is non-porous and strong enough the support all the speakers. Of course, you don't want an enclosure may appear weak when playing hard-hitting music. You need something that will support its speaker capacity and still serve you for the longest time possible.
To maintain a compact design, this speaker has the 4 holes distributed on 2 faces (2 holes for each face). This allows you to find the right balance between convenience and better sound quality.
The four chamber technology balances the load on your drivers to ensure sound production is safe without any case of drivers overworking. A convenient box for heavy-duty functionality.
Conclusion
In summary, we focused on two enclosure styles that offer two different approaches to fulfill your needs. Sealed boxes have to play crispy and have tight bass, ported enclosures, on the other hand, have boomy bass.
In that vein, the Bbox E12ST Single 12″ sealed subwoofer enclosure happens to be my favorite option. With its special design and build quality that is centered on improving its resourcefulness in terms of size, stability and performance, I believe it has what it takes to make your system better. However, different audiophiles (including my friends) have or may have different choices depending on their centers of interest.
Hence, it upon you to make the right decision. You should have comprehensive shopper's guide to giving the right framework on how to get the right box. Lucky enough, we got you covered.
What You Need To Know About Subwoofer Boxes
Finding the right subwoofer box (enclosure) to match your taste in music and fit your audio system preferences, can be a bit confusing. But with the right guide to help you make the correct selections, you'll definitely have the best enclosure style that will improve your system's bass response besides preventing woofer damages from over-excursion.
Speaking of the common enclosure styles, you should learn more about Vented and Sealed enclosure styles plus their relevance to the type of music you intend to play.
Vented or Sealed Enclosure Styles?
A SEALED SUBWOOFER BOX, also known as an acoustic suspension enclosure, is an air-tight box housing your subwoofer. They are usually designed within a strict range of internal volumes, which vary subject to the type of sound you want. And since the internal volume must be specified by the manufacturer, sealed subwoofer boxes can have small or large internal volumes with no vents or ports in the enclosure.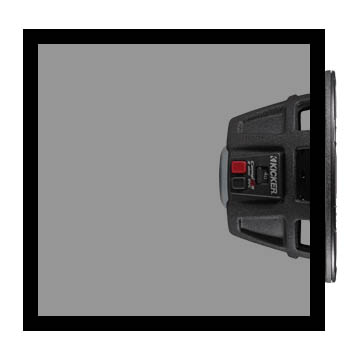 The trapped air inside the box works as an air spring (acoustic suspension) that controls the cone's movement. This means a sealed enclosure offers deep, precise bass and is ideally suited for any music that requires tight and accurate bass. These enclosures aren't overly boomy (flat response), but offer outstanding power handling and incredibly deep bass extension.
Sealed enclosures are usually more compact than other enclosure styles and would fit in tight places in your car. Besides, they require more power than the vented options and you'll need to use an amp with ample wattage for the best performance.
On the other hand, VENTED SUBWOOFER BOXES (ported enclosures) are designed to use additional vents for air to flow in and out of the enclosure. The additional airflow in vented enclosures increase output at different frequencies by combining the speaker's front output the rear-side of the woofer's output It can, therefore, be tuned to certain frequencies that will allow for better output around the specific frequency.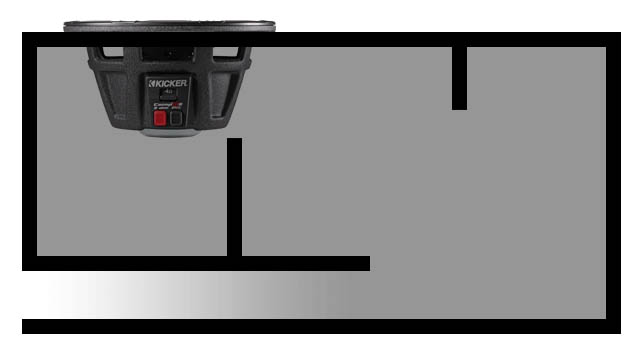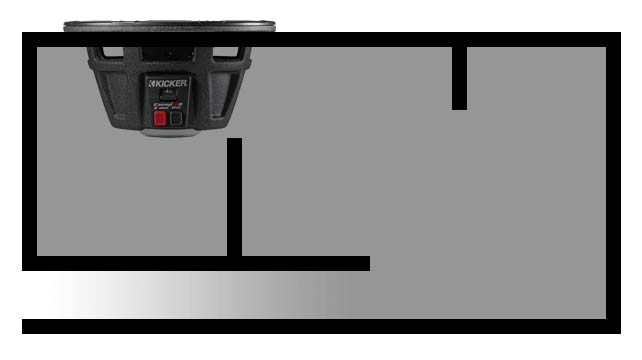 Because of the cone's freedom of motion, ported enclosures can provide louder, boomy bass with better reverberance and punch without using additional digital processors and sound equalizers. This means you'll be getting better output at any given amp wattage than what sealed enclosures can offer.
To prevent speaker damages and optimize the output of vented enclosures, you must remain within the provisions of the speaker's specifications.
A WORD OF ADVICE, when dealing with sealed enclosures you'll have to pay attention to the variance in performance that may arise from the size differences. Large sealed enclosures have smoother outputs with deeper bass but may limit power handling since the woofer's cone has limited control at lower frequencies. Contrariwise, with the smaller sealed subwoofer boxes, the bass is very "tight" and contained, meaning the woofer can handle most power with limited cone movement at lower frequencies.
As for vented enclosures, you'll need larger boxes to achieve the most output. But then again, you may want to pay attention to the "group delay" concern that tends to worsen with the increase of the enclosure's size.
Once you're certain about the enclosure style, you should take this keep points into consideration.
Custom or Premade?
Now that we've already talked about sealed and ported subwoofer enclosures, you should be thinking of how or where you can get your preferred style.
Well, as of today, you can consider getting a premade (readymade) box from specialized manufacturers or just have your enclosure built from scratch depending on your stereo system's requirements. The choice is all yours.
If you do choose to build your enclosure, you must make sure the box's walls are as rigid as possible. This is because any loose ends and flexing will drastically decrease your speaker's performance. Besides, the wire holes, screw holes, and all the walls and joints should be airtight to prevent any flexing and leaks.
And as you are checking out different DIY tips on how to build an enclosure, you should consider these key points.
Use very dense and heavy wood, preferably medium density fiberboard (MDF) or high-density fiberboard (Medite). The wood should be heavy, rigid and not porous.
The joints should be glued all the way across the dividers and walls to provide air-tight seals
It's a better idea to use glue blocks, corner brace, on the joints to strengthen the air-tight seals.
Provide different chambers for different drivers to provide airtight seals between speakers for maximum output. The dividers are also vital for strengthening the box.
Always determine the size of the enclosure depending on the amount of space you have in your car.
Calculate and subtract driver, brace(s) and vents (if vented) displacement from the enclosure volume.
Then finalize everything with an appropriate driver selection.
With these vital ideas in mind, you may proceed to design and built your enclosure.
Alternatively, you choose to go for a premade enclosure which is designed by the specialist and come in different specifications to serve your interest. They are designed for easy installation and powerful performance.
A word of advice on "custom or premade enclosures". If you choose to build your own enclosure, just make sure you get the whole process right. In the event that you leave a vital piece of engineering out, you will have missed the chance to get your dream audio set-up.
And that's why I would recommend you go for a premade enclosure, which is readily available on the market and made by a specialist. But if you need something special, you can contact the manufacturers to help you create the enclosures.
However, whichever path you choose (custom or premade), just make sure you consider your budget, warranty terms, stereo specification, among other vital factors.
Last update on 2023-12-09 / Affiliate links / *Image Disclaimer: We use images/data from Amazon Product Advertising API solely on products that link to Amazon. On products with the "Price at Crutchfield" button, we use images/data from Crutchfield.com as per the partnership deal.