The main differences and similarities
The main distinction between these two speakers can be made in their frequency response, dimensions, and the number of drivers. On the other hand, these are both made for getting low-frequency audio signals in your system.
n this post, I'll explain each type of speaker, the key differences between them, the pros and cons of each, and some other useful facts that will hopefully allow you to get great bass in your car.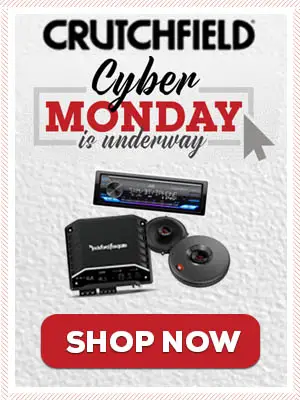 What Is a Woofer?
A woofer is a speaker or loudspeaker (like these 10″, 8″ or 6.5″) in your system that processes low and midrange frequency audio signals. Woofers are frequently used as front/rear channel speakers, whereas subwoofers are generally used to reach higher frequency audio signals. A woofer typically reproduces sound frequencies ranging from 40 Hz to 5000 Hz.
What Is a Subwoofer?
A subwoofer is a type of speaker (like these 8″, 10″, 12", 15″ or 18″) capable of producing low-frequency audio signals. A subwoofer's low-frequency sound range is typically between 20Hz and 500Hz. As a result, it can add deep bass to your sound system. When your conventional sound system is incapable of producing low-frequency sound and has a minimal bass effect, you need a subwoofer.
What Are the Key Differences Between a Woofer and a Subwoofer?
While they have many commonalities, the biggest distinction between a woofer and a subwoofer is that the former generally has a wider frequency range, allowing it to play both mid-range and bass frequencies.
On the other hand, subwoofers are generally used for low-end, high-impact bass frequencies with high power levels. The following are some of the key differences between a woofer and a subwoofer.
Frequency Range
A woofer, in general, can reproduce audio in the frequency range of 40 to 1000 Hz. There are, however, some specialty woofers available that can produce sound at frequencies ranging from 40 to 2500 Hz.
A subwoofer, on the other hand, can reproduce audio in the frequency range of 20 to 120 Hz. However, there are some specialty subwoofers currently offered that can output sound in the 20 to 200 Hz frequency range.
Size
Subwoofers are larger than woofers. Driving low frequencies necessitates a large volume of air. This can only be accomplished with a big cone surface area and a sizable, powerful magnet. As a result, the total size of the subwoofer exceeds that of a woofer.
Subwoofers, as previously stated, reproduce lower frequencies than woofers, so a subwoofer must be bigger than a woofer. While some woofers are quite large, the majority are still smaller than subwoofers and cannot reach the smallest frequencies like subs.
Number of Drivers
A subwoofer is generally a single speaker, whereas a woofer can have up to four drivers, with 2-3 drivers being the most common configuration, and it frequently includes a tweeter.
The Pros & Cons of Woofer
Pros
Overall Sound Quality: A woofer can help to improve overall audio quality. This means that it can improve both low and high-frequency sound.
Compact Design: Unlike a subwoofer, a woofer is small in size. It allows you to save space while still providing excellent sound.
Wider Frequency Range: A woofer has a higher frequency range of up to 2 kHz as opposed to a subwoofer's 200 Hz.
Cons
Non-specialized device: It cannot produce extremely low or extremely high frequencies.
Power Consumption: Due to the technical specs of a woofer, it consumes a significant amount of power.
The Pros & Cons of Subwoofer
Pros
A subwoofer enhances sound quality by reproducing low-frequency sounds. When you incorporate a subwoofer into your audio system, you will notice less distortion and thus better and more consistent audio performance.
Rich Bass: The primary function of a subwoofer is to improve the bass in an audio system. It mainly focuses on low frequencies to produce a rich bass impact. The bass is far superior to that of a standard woofer.
Cons
Space: Subwoofers take up a lot of room. It will be difficult in areas where there is a considerable lack of space.
Power Source: Subwoofers absorb more wattage than woofers. You'll need to use a high-wattage amp.