How do you bypass the parking brake wire on Alpine head units?
Bypassing the parking brake on Alpine radio is best done with a MicroBypass relay. There are four wires (ground, remote, foot pedal, and parking brake) that need to be connected from your radio wiring harness to the MicroBypass switch.
Things You Will Need
The MicroBypass switch
We recommend this bypass switch from MicroBypass.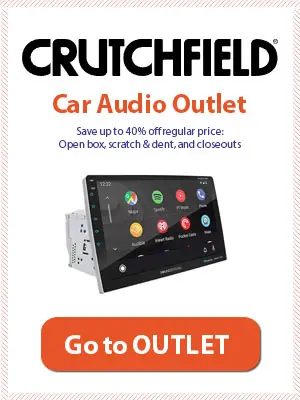 Guaranteed to work: all aftermarket Alpine radio models including all the new 2013-2021 Alpine models (but not limited to): i109-WRA, i209-WRA, i407-WRA-JL, i407-WRA-JK, iCS-X7HD, INA-W910, INE-S920HD, INE-W927HD, INE-W940, INE-W957HD, INE-W960, INE-W960HDMI, INE-W967HD, INE-W970HD, INE-W987HD, INE-Z928HD, IVE-W530, IVE-W535HD, IVE-W555BT, iLX-007, iLX-107, iLX-207, I209-WRA, iLX-407, ILX-F409, Halo9, ILX-F411, Halo11, ILX-W650, ILX-507, ILX-F259, ILX-F309, X008U, X009-U, X009-FD1, X009-FD2, X009-GM, X009-GM2, X009-RAM, X009-TND, X110-SLV, X110-SRA, X009-WRA, X109-WRA, X409-WRA-JL, X409-WRA-JK, X308U, X409.
Not for use with OEM Alpine radios
We also did the bypass option for Pioneer radios.
Step-by-Step Instructions
Step 1: Connect the BLACK wire
The BLACK ground wire of the should be connected to the black ground wire of the radio.
Step 2: Connect the YELLOW/BLUE wire
Connect YELLOW/BLUE wire on MicroBypass to radio yellow/blue parking brake wire.
Step 3: Connect the YELLOW/BLACK wire
Connect the YELLOW/BLACK wire on the MicroBypass to the yellow/black foot brake wire on the radio harness.
*DO NOT connect any wires to vehicles parking or foot brake wires or anything else.
*Cap off this wire if there is no Yellow/Black wire on your Alpine radio wire harness.
Step 4: Connect the BLUE/WHITE wire
The BLUE/WHITE wire on MicroBypass should be connected to the radio's BLUE/WHITE remote turn on/off wire.
*Won't interfere with amplifiers connected to this lead.
Video tutorial
Legal Disclaimer
WARNING! It is illegal and dangerous for the driver to view video while driving this item is intended for show use and offroad use only! Check local laws! We do not assume or accept any liability for the use of this product! Use at your own risk!
Last update on 2023-12-09 / Affiliate links / *Image Disclaimer: We use images/data from Amazon Product Advertising API solely on products that link to Amazon. On products with the "Price at Crutchfield" button, we use images/data from Crutchfield.com as per the partnership deal.