Do you need an amp for aftermarket door speakers?
Yes, you need an amp for door speakers if your head unit's built-in amp doesn't offer good power output. You also need an amp for door speakers because it lets you create a perfect sound stage inside the car cabin that remains impregnable to surrounding noises.
Door speakers operate without a standalone amp and draw power from whatever built-in is present in the head unit. This stock setting doesn't satisfy many music fans who listen to their tunes while driving, causing them to ask around whether they should get an amp for door speakers.
If you also find yourself in the same bind and can't make your mind, continue reading this post. This guide will try to answer whether do you need an amp for door speakers or not.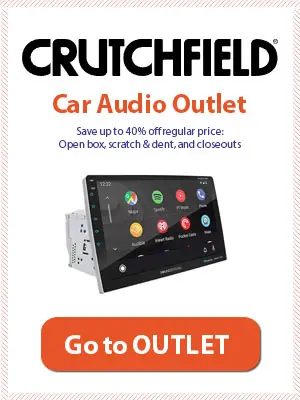 Why Do You Need an Amp for Door Speakers?
Various requirements justify the installment of an amp with door speakers.
For Getting the Most Out of Aftermarket Door Speakers
Aftermarket speakers are often improvements on their stock counterparts. The in-dash receiver of your car is usually not able to provide the required power to the new powerful speakers with its "bare minimum" amplifying unit. By getting an amp for your aftermarket door speakers, you can use them for the top-quality sound production they are designed for.
For the Booming, Deafening Sound on the Road
The sound of a car engine, the vibrations from different parts of the vehicle, and high ambient (road) noise can easily spoil your music experience, especially when operating your stereo system with default components and configurations.
In its default setting, a stock car stereo can't produce more than 20W RMS output, which is not enough to override the surrounding noise with your playlist.
You can improve your sound system's "boom" by adding more RMS output to it by installing an amplifier.
Can I use speakers without an amplifier?
Yes, you can. But, door speakers without a standalone amp might not help your stereo system to create an impeccable sound stage. A built-in amp powering all the speakers and subs can't guarantee the distortion-free surround sound you are looking for at higher volumes. By setting up door speakers with an amp, you can succeed in creating a high-fidelity sound stage in your car cabin.
What kind of amp do I need for door speakers?
Amps come in different channel configurations. You can pick from 2 to 6-channel units for your vehicle. Most people like to create only a soundstage for the driver and the adjacent passenger seat, and they only want to optimize the use of front door speakers. In that case, a 2-channel amp will suffice. If you want to connect all the door speakers to an amp, go with 4-channel amp options.
If you want to power a subwoofer along with the pair(s) of door speakers, you can opt for either a 3 or 5-channel amplifier.
RMS Power Balance
You need to create an RMS power balance between your door speakers and the amp. Ensure that the RMS power output of each channel of the amp doesn't exceed your door speakers' RMS rating.
Be Aware of High and Low-Level Input
You will need to connect an aftermarket amp with your stock head unit that usually doesn't have preamp outputs. You will either have to use a line output converter to establish an external amp's connection with the head unit or go for an amp that comes with speaker-level or high-level inputs.
Conclusion
You need an amp for door speakers if you love to blast music at high volumes with an impeccable sound stage. However, your head unit won't offer the required power for that setup. If you find this article helpful, don't forget to share it with other car owners facing the same predicament as you.
Last update on 2023-12-09 / Affiliate links / *Image Disclaimer: We use images/data from Amazon Product Advertising API solely on products that link to Amazon. On products with the "Price at Crutchfield" button, we use images/data from Crutchfield.com as per the partnership deal.