Verdict
The JL Audio JX1000/1D is designed with crisp sound and peak performance without having the hefty price tags with normally come from mono competitors. Speaking of competitors, there is something that JL has with its budget range of apps that the others don't, and that in an unwavering dedication to performance.
The JX1000/1D is an unassuming mono amp. There is nothing to the shell of the device outside of the model name and number. Don't let that deceive you. This blank canvas is a complete aluminum shell that is used to help control and dissipate the internal temperature of the amp. Inside, the components inside are carefully tailored so they're as power saving to your car's battery as possible. Currently being a hair under $300 it makes it in the mid-range for most folks looking for their first amp.
Pros
Portable
Made from premium material
Complete package
Cons
On the higher end of the budget range
Might not impress mid frequency fanatics
May be too simplistic for some experienced enthusiasts
Review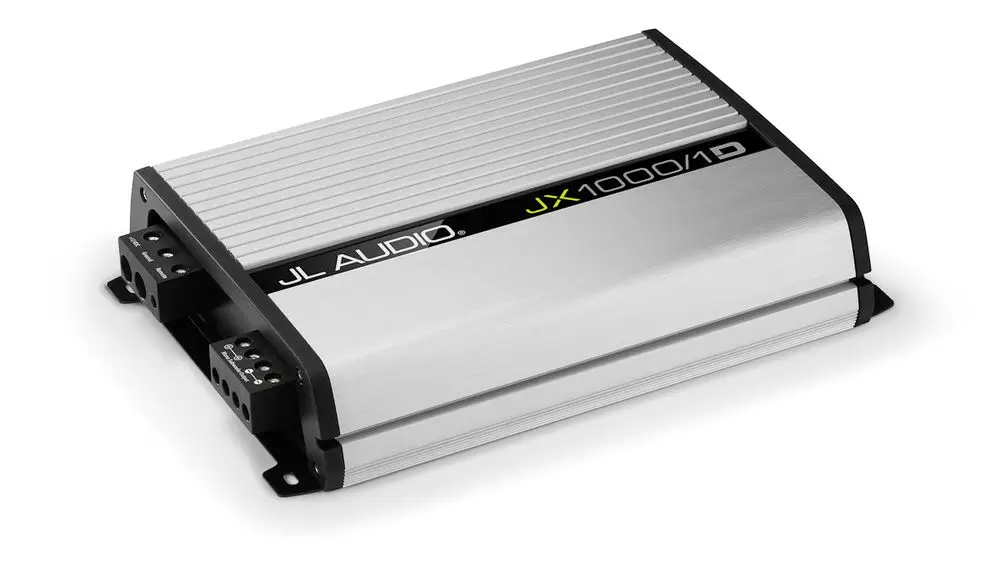 JL Audio has been on the sound scene since 1975 and this American monolith is dedicated to providing 'the right soundtrack for your drive' ever since.
The JX1000/1D is most notably known for its durability and performance, but it's one of the few options out there that guarantee a premium sound with none of the fluff. You will not find any LED indicators or flashing lights, all you're going to find is a sleek aluminum frame that ensures no thermal issues while holding all the essentials.
It's compact at 7.68 x 10.94 x 2.09 inches and weighing in at just over 3 kilograms it makes it immensely versatile in your options for mounting it.
Features
Here are some JL Audio JX1000/1D key features
Class D Amp
MOSFET switch power supply
Nickel plated Level Inputs
Nickel plated terminals
Soft start feature
Alluminium heatsick
Low Pass Active Filter
Controls
There are only a handful of controls for the JX1000/1D. All of them providing a level of versatility that you wouldn't expect from the unit. You have an option for hi-level inputs and low levels and pre-outs. So you can customize the sound for not only what you have, but if you ever upgrade your system at any stage.
One of its essential features is its Low Pass Active filter, meaning that if you have any sounds that may damage your speakers at the inaudible range, this amp can actively filter it out. Ensuring not only a crisper sound but one that will save the life of your sub.
Video
As normal, we have collected a list of reviews, previews, audio samples for you to check out before you decide if this is the right amp for you.