Since 2007/2008 or so, car manufacturers have been integrating some sort of Bluetooth feature into the entertainment systems of vehicles, which has trickled down into the aftermarket sector.
Indeed, by integrating this wireless functionality into your mobile audio system, a plethora of realities come to the realization – from seeing incoming call data on your head unit's display and hearing the voices of callers over your audio system's speakers to the possibility of streaming audio from your device to the stereo.
Sound like an impossibility? It isn't, thanks to the magic of such devices as universal Bluetooth adapters, which require no interaction with your mobile sound system at all. Perhaps the most important benefit of this tech, in this day and age of distracted drivers causing accidents, is that you can keep your eyes on the road and hands on the wheel while chatting with someone.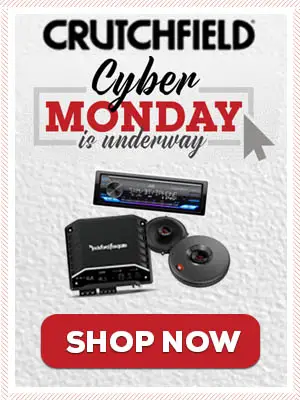 From a streaming perspective, a number of Bluetooth devices make it possible to stream music from a capable tablet, smartphone or other product directly to your mobile audio system.
Essentially, there are three ways to get Bluetooth into your vehicle:
A universal Bluetooth kit that works in any car or truck
A vehicle-specific Bluetooth adapter to which the factory system connects
A new head unit/receiver that boasts built-in (or add-on) Bluetooth capability
Let's now answer the question that so many of our visitors ask us with regard to this subject…
"How do I get Bluetooth in my car?"
Option One: The Universal Bluetooth Kits Approach
As we mentioned just a moment ago, the first option you can consider is the universal kit that will work in virtually any vehicle. A number of these can be considered simple stand-alone devices that include a small microphone and speaker, and which either mount to your dash or clip onto your sun visor (thus not interfacing with your mobile audio system at all).
What makes these kinds of Bluetooth kits so appealing is that they can be moved from one car or truck to another; on the flip side of this coin, you're essentially limited to hands-free calling, pretty much all of the time.
Other types of universal Bluetooth adapters for the mobile environment can be wired to the audio system so that when calls arrive, the music playing automatically mutes. In this scenario, the calls actually play over your vehicle's speakers rather than a minuscule standalone container.
Some of these kits are also capable of handling music streaming – as we have alluded to – but the downside is that you would have to remove the system's head unit and connect some wires to complete the installation of the kit. Still, while this demands a bit more effort on your part, we can attest to the fact that the result is often worth it.
Option Two: Relying on Vehicle-Specific Bluetooth Car Adapters
Defined as an interface that links directly to a vehicle's factory stereo, a vehicle-specific Bluetooth adapter typically encompasses the removal of the factory head unit, the connection of the cable to the vehicle radio and its wiring, and then the installation of a microphone for hands-free calling capability.
With this option, users can place and answer calls – with information about the caller popping up on the factory head unit's display – via the audio system's controls, while an included microphone either mounts someplace on the dash or clamps onto the sun visor.
With this option, you can hear callers over your system's speakers.
If you're interested in keeping your factory radio intact, the vehicle-specific Bluetooth adapters are a good choice. While they do involve some installation effort, the end result is a Bluetooth system that is completely integrated into your sound system, thus providing hands-free phoning. What's more, many of these systems can handle music streaming, to boot.
Option Three: Aftermarket Head Unit with Add-On or Built-In Bluetooth Capability
The final solution when you're looking to add Bluetooth to your vehicle involves the installation of a new receiver/head unit that includes the technology (or one that offers an adapter to include it).
With this option, you can control – depending on the head unit model you select – many of your music streaming and smartphone functions from your stereo, and perhaps best of all, you don't have to deal with installing a separate hideaway box when you choose a receiver with built-in Bluetooth.
Due to Bluetooth's popularity, you don't have to worry about finding an aftermarket radio model that suits your needs; there are a plethora of brands and prices out there, to choose from. Such brands to keep an eye out for, as far as we're concerned, include Alpine, Kenwood, JVC, Sony, and Pioneer.
Conclusion
Adding Bluetooth to your vehicle can be simple, and at the very least, Bluetooth technology itself makes it safer, easier, and – in an increasing number of states – legal to use the phone when you're on the road.