Weatherology is the highest-rated weather app for Apple CarPlay on the App Store. But if you're looking for an app with radar functions there is a new player in town. Weather-On-The-Way illustrates the weather along
your route along with other useful information.

Also, there are weather information features on navigation apps for CarPlay like Waze, Apple Maps, and Google Maps. However, the best weather apps on the App Stores like AccuWeather and Apple's own Dark Sky don't have CarPlay versions.
Weather-On-The-Way: First Weather Radar App For CarPlay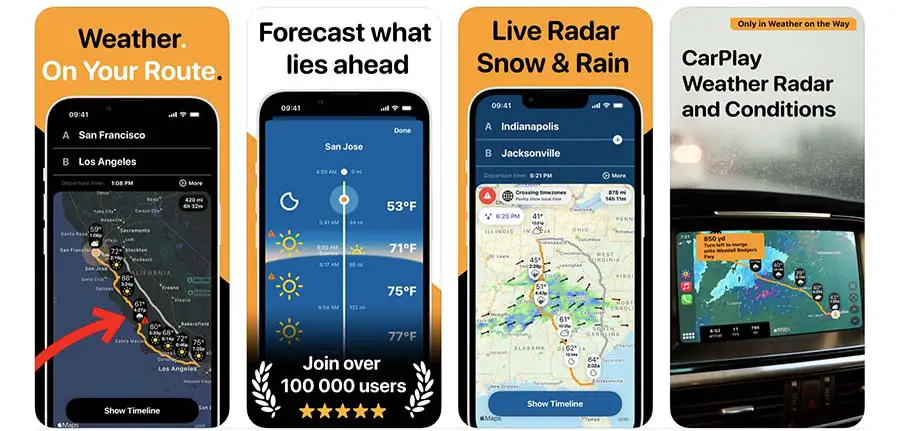 We finally got one CarPlay app that actually has precipitation radar. It is called Weather-On-The-Way (see on App Store) and it's updated every 10 minutes. The cool functions of this app have already been known for a while, but now we have the opportunity to enjoy it on the screens of our cars.
Feature 1: Precipitation Weather Radar
The weather radar updates every 10 minutes. Direction arrows are displayed on the radar to show how a storm moves (see the image below). There are both rain and snow indicators.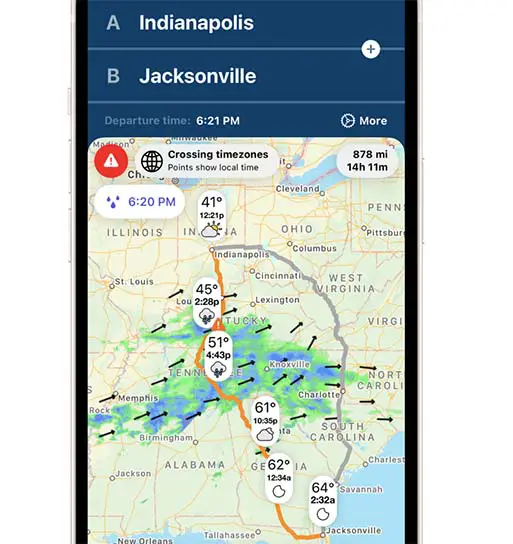 Feature 2: A weather report for the route
Another great and highly usable feature is the weather report along the route. It displays the current temperature and weather for each point. A nice feature that gives you the option to pick another route and avoid the bad weather.
Weatherology – The Most Popular Weather App for CarPlay
Weatherology (see on App Store) is the only third-party app focused on the weather for CarPlay. That's why it's the best weather app for Apple CarPlay by default.
It has had support for the Apple OS since iOS 12. It includes accurate weather information about your location and a great user interface operable through just voice commands. This makes it easy to access all the information you need while driving.
The app includes hourly forecasts for major cities and rain predictions and custom alerts. However, the app isn't really feature-heavy. It is designed for a minimalist experience to just give you updates while driving. It doesn't have a detailed user interface that requires repeated input.
Feature 1: Displaying the Latest Weather Forecast on the CarPlay Display
The latest weather forecast for your current location is displayed on the CarPlay display automatically. You can either tap the screen or use voice commands to hear it.
Feature 2: Sound Bites from Weather Reports in the Local Area
The weather forecast is usually in the form of sound bites from weather reports in your local area.
Disadvantages of the Weatherology App
Doesn't have radar functions like the Weather-On-The-Way app
Weatherology can actually interfere with the music player app interface on your head unit. It can create a blank screen when the app is active.
At times, music playback can actually overlay the weather forecast in the background. There is no way to stop it while the forecast is playing. You will have to go back and shut off the music first.
Apple Maps: Weather Updates for CarPlay

Apple Maps is fully integrated into the Apple ecosystem, so it has access to Siri. Hence, you can ask Siri about the weather while you're navigating on CarPlay. Siri will give you updated weather forecasts according to your location. This includes all sorts of weather alerts and updates for hazardous conditions.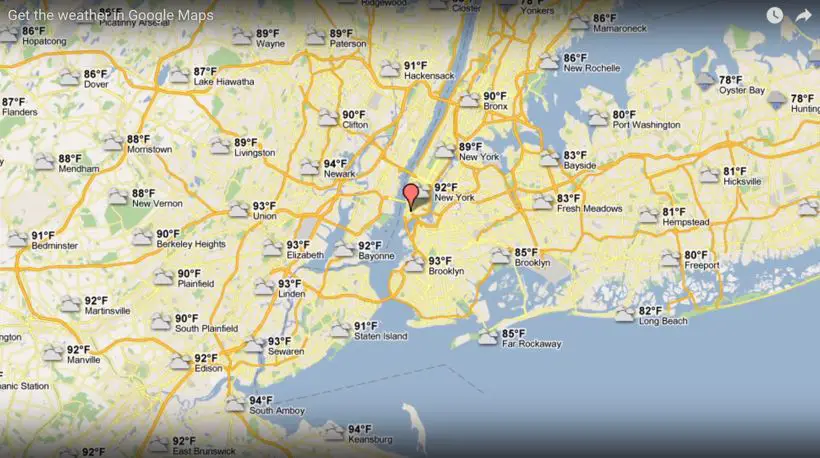 Google Maps, apart from being one of the best navigation apps for CarPlay, has a feature for weather information. The app's interface includes a weather feature in the top right-hand corner.
Of course, you can also use Siri to issue voice commands for weather updates while you're navigating. It works just as well with Google Maps as with Apple Maps.
Waze: Basic Weather Info for CarPlay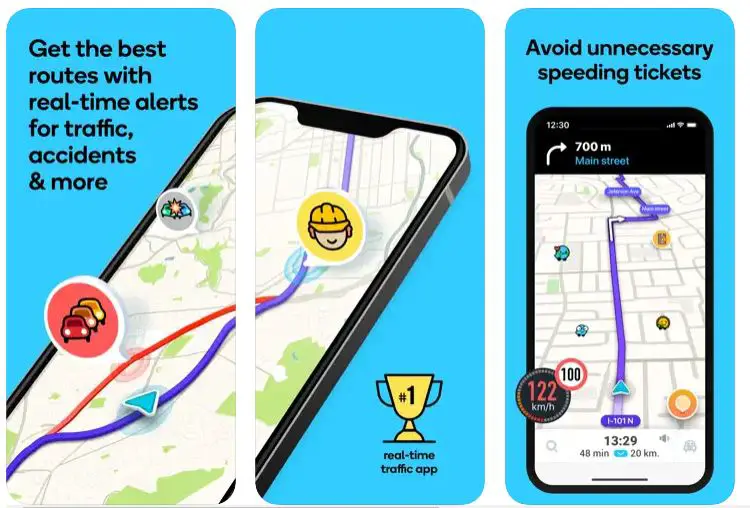 Waze is a great choice for weather updates for CarPlay. It has no bells and whistles or fancy features, just plain old weather. Waze offers 7-days of forecast and detailed storm tracking.
You can also access the app while you're navigating through CarPlay's built-in maps. In addition, the app also provides alerts for weather hazards like fog, hail, ice, floods, and unplowed roads.
Airaw: The Weather App for Jailbroken iPhones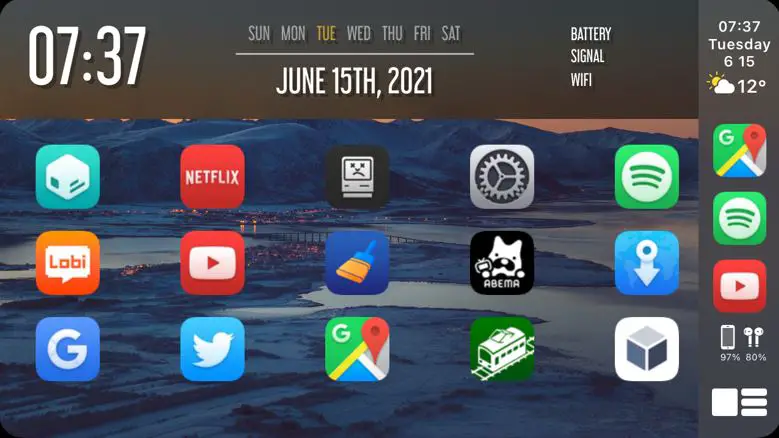 One final alternative for CarPlay weather apps is Airaw. This is a third-party weather app that comes with features like detailed forecasts, a live camera feed, and even interactive radar maps. For this reason, it isn't approved by Apple and only works with jailbroken iPhones.
Despite that, it's one of the best weather apps for apple CarPlay.
The app also features hourly updates for temperature, humidity, and rain forecasts. The app has a simple user interface which is why it's easy to use even in heavy traffic.
Airaw works with iOS 13 and up.
These apps will give you all the weather forecast details you need for CarPlay. They are designed for minimal input and distractions during driving. While there is no dedicated weather app for the same experience as on your iPhone, this is for the best. You need to have a distraction-free experience for focused driving.
Weather Apps FAQ
Why AccuWeather Doesn't Work With Apple CarPlay?
AccuWeather, though one of the top-rated weather apps for iOS, doesn't work for CarPlay. In fact, no weather apps, including Apple's own Dark Sky have been made for use in CarPlay.
Apple has tried to optimize the CarPlay experience to keep users focused on driving most of the time.
This includes eliminating distractions. Hence, using apps like AccuWeather and others that require consistent input aren't primed to work with it. There is even a Driving Focus mode on iPhones which further limits distractions even from calls and texts.
Don't worry though, there are excellent alternatives to AccuWeather for CarPlay which provide weather alerts, updates, and accurate information.
Is There a Weather Radar App for CarPlay?
Yes, there is a weather radar app for CarPlay and it is called Weather-On-The-Way (see on App Store). This is the first weather radar app specially customized for CarPlay and it updates maps every 10 minutes.
Other articles to consider:
Apple CarPlay and Android Auto Wireless Adapters
How to update Apple CarPlay
Why Does Apple CarPlay Keep Disconnecting
Why Is Apple Carplay Volume Low
How To Watch Netflix on Apple CarPlay