In this article, we will focus on Alpine car stereo wiring diagrams with color codes. As usual, we'll provide you with a single and double din unit option. In this case, these are Alpine UTE-73BT and iLX-W650.
Alpine UTE-73BT (Single-DIN)
16 pin wiring diagram and color codes
This wiring information can be also used for the following models: CDE-175BT/ CDE-172BT. Source.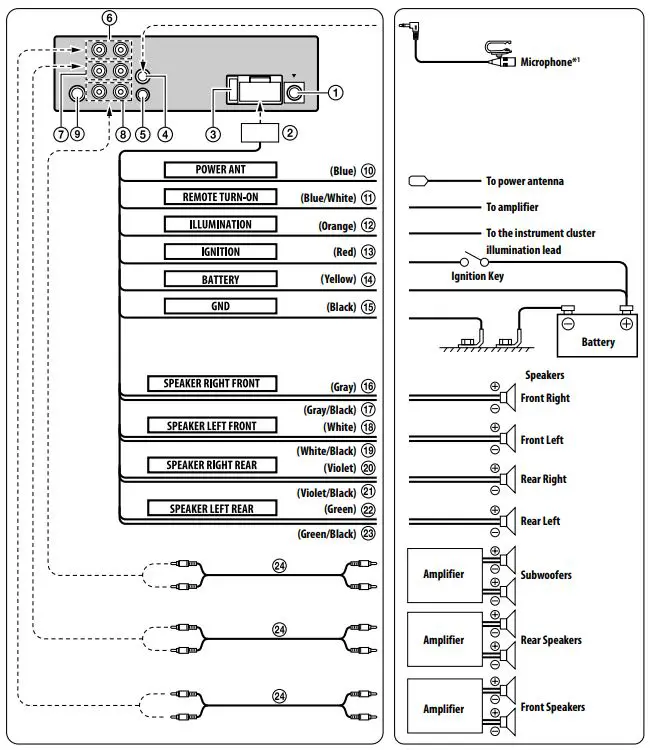 Front speaker (left): White (+), White/black (-)
Front speaker (right): Gray (+), Gray/black (-)
Rear speaker (left): Green (+), Green/black (-)
Rear speaker (right): Violet (+), Violet/black (-)
Blue – If applicable, connect your power antenna to the +B terminal. This lead should be used only for controlling the vehicle's power antenna. Do not use this lead to turn on an amplifier or a signal processor, etc.
Orange – Illumination (CDE-175BT/ CDE-172BT/ UTE-73BT only) – This may be connected to the vehicle's instrument cluster illumination lead. The unit's backlighting can then be dimmed using the vehicle's dimmer system.
Red – Switched Power – Connect to an open terminal on the vehicle's fuse box or another unused power source that provides (+) 12V only when the ignition is turned on or in the accessory position.
Yellow – Battery – Connect to the positive (+) post of the vehicle's battery.
Black – Ground – A sheet metal screw is provided to securely fasten the connection to bare metal.
Alpine iLX-W650 (Double-DIN)
16 pin wiring diagram and color codes
We're gonna list only the wires that are not mentioned in the unit above. Everything else is the same as the UTE-73BT unit as you can see from the diagram. Source.
Blue – Remote turn on – Wire this to remote turn-on of your amp or processor.
Orange/White – Reverse
Yellow/Blue – Parking break – connect this to the power supply of the parking brake.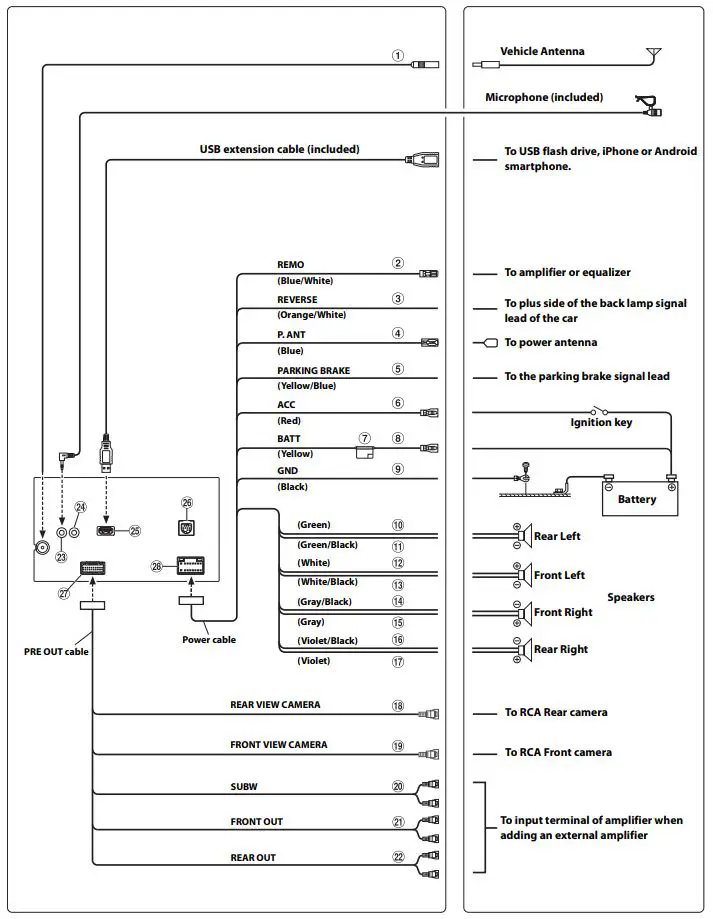 Connected articles: