Ask any professional or semi-seasoned mobile audio installer what the most common issues are when it comes to putting a mobile stereo system together, and you're likely to get a myriad of answers – some similar to one another, some different.
A few common themes include that ever-annoying "ground loop hum," drained batteries, "crackling", factory radio code resets, alternator "whine" through speakers and the always-popular "power without sound" anomaly. In this article, we're going to take a closer look at the most common problems associated with car stereo installs and how to address them the most effectively.
So, without further ado…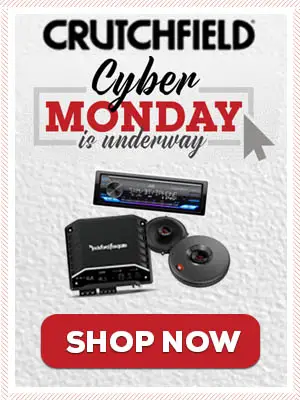 Why is My Car Stereo Draining My Battery?
This is perhaps the most common question we get from those who have installed a massive subwoofer-and-amplifier setup in their vehicle, and the corresponding answer almost always has to do with one underlying factor: The vehicle's factory battery and alternator.
You see, factory batteries and alternators weren't designed to handle the incredible strain power amplifiers and other mobile sound electronics place on them, and as such, when folks connect these devices to the factory receptacles under the hood, they're usually greeted with dimming headlights, eventual drained batteries and destroyed alternators.
Almost all professional installers and competitors on the car audio competition circuit recommend switching out a car's factory battery and alternator for types more suited for heavy-duty use, or, alternatively, adding a battery specifically devoted to hooking up the amplifiers in the audio system (if under-hood space allows).
Check out this video for more about the subject:

How Can I Reset My Car Stereo?
A mobile audio head unit can be rebooted if it isn't working properly, and this applies to both factory and aftermarket types; if you have taken your car in to be serviced and a mechanic needed to disconnect the battery, chances are that your stereo locked itself as a means to prevent theft. Resetting the car stereo is a pretty straightforward process and should only take a few minutes.
The steps outlined here will get you on the road towards fixing your resetting headaches.
How to reset a JVC, Kenwood or Pioneer car stereo.
How is it That My Stereo Has Power But No Sound From the Speakers?
This problem is almost always associated with a grounding issue. Start by checking out the fuses you installed to make sure they are all solidly intact, and should you find that one has blown, try replacing it and then drive around to test if it blows again.
If the fuse blows again, this means there is a short somewhere in your power system, which is sometimes difficult to fix; whatever you do, don't replace a light fuse with a heavier one, as this could completely destroy your wiring or even cause a fire in your vehicle.
An amplifier can also cause a lack of sound, depending on how its fuses are mounted.
Additional information can be found in this video:

How Do I Get Rid of Engine Noise?
This is a very common problem, and one we hear about all the time. In fact, it remains one of the biggest issues car audio install shops deal with when it comes to customers who return after a project has been completed.
Most of the time, this problem boils down to a noise akin to an "alternator whine," a particular kind of sound that everyone who has experienced a dying alternator in their vehicle has heard.
Engine noise through speakers occurs due to:
Inadequate grounding (what is otherwise known as "ground noise" or "ground loop hum")
Faulty RCA cables
Faulty speaker wires
If you are tackling this problem yourself, here's what you'll need to do:
Step One: Identify the source of the noise
Step Two: Do a cable check
Step Three: Remove the head unit
Step Four: Turn off the whole system and disconnect the speakers
Step Five: Check your alternator and battery
If you enter "how to get rid of engine noise in car stereo" in YouTube's search box, a plethora of videos will pop up to guide you through everything you need to know.
Why Does My Radio Turn Off at Regular Intervals?
When a head unit cuts out and then turns back on, the problem usually resides in the wiring. If the display shuts off at the same time the music cuts out, then the unit is most likely losing power. Still, you can also have an amplifier problem, an internal fault in the head unit or even a problem with your speakers or their wires.
Concluding Thoughts
It can be frustrating to turn on your mobile audio system and discover that the sound has cut out, but with the aforementioned information you can troubleshoot and possibly fix the problem at home before taking your ride to an expensive repair shop.